You know when you get a song stuck in your head that doesn't go away, well the old song "Happy Together" by the Turtles keeps running through my mind.  I bet it is now stuck in your head too…you're welcome.
Creating this Card:
A lot of you might already have some of these stamps and dies, so this will just be an inspiration post for you.  This card is featuring the new Wonky Windows 4 frame die.  After the frame was die cut, and adhered down onto a cloud backdrop, a yellow paint marker was used to add the "road lines".
I die cut the word "Awesome" using the new Awesome Large word die in black cardstock and adhered it to the card base.  The word "together" is part of the Fill a Wagon stamp set.  Once it was stamped I die cut it using the Wonky Window die, and placed it into the lower opening .  You can use any border die, but I used the long border from the Build-a-Castle I die cut a strip out of black cardstock again and placed it over the "together panel.
The wagon was stamped and handout out and placed over the road, and then I colored and cut out the group of bunnies from A Bunny Birthday, and slipped them into the wagon.  If you would prefer to not hand cut, the bunnies have optional outline dies.  As you are creating, consider this design, as it can be expanded for the perfect slider card.
Product Links
If you like this wagon I think you will also like the rest in the series.  Fill a Wagon, Fill a Wheel Barrel, and Fill a Truck have been a hit, and can be found in the Whimsy Stamps store.  I can't wait to see what you put into them, and hope you love them as much as I do!!
A Bunny Birthday clear stamps
A Bunny Birthday outline dies
Fill a Wagon clear stamps
Wonky Window 4 die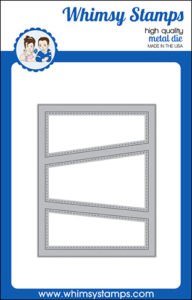 Awesome Large Word die
Build-a-Castle die set
Sketchmarker Brush Pro markers – Alcohol Markers
Sketchmarker Brush Pro markers:
MarkerUniverse – USE Coupon Code DOVE15 for 15% off until July 15 2021
tires/bunny NG3 4 5 6 N12
Bunny BR10 11 12
wagon R100 101
Bunny WG3 4 5 6
bunny nose R52