Look at this sweet Marci from La-La Land Crafts.  I have been waiting to color her up again, and took this very special occasion to showcase her.  NEW MARKERS ARE IN THE HOUSE (or rather RV).
Today I was thrilled to be able to try out some new-to-the-US  alcohol markers.  The brand name is Sketchmarker Brush Pro, and sold through Marker Universe.   I love them so much, and am super excited to have their full range.  They are very similar to the Copic Sketch markers, come in 400 colors, and have refills and nibs.
I will talk more about them below.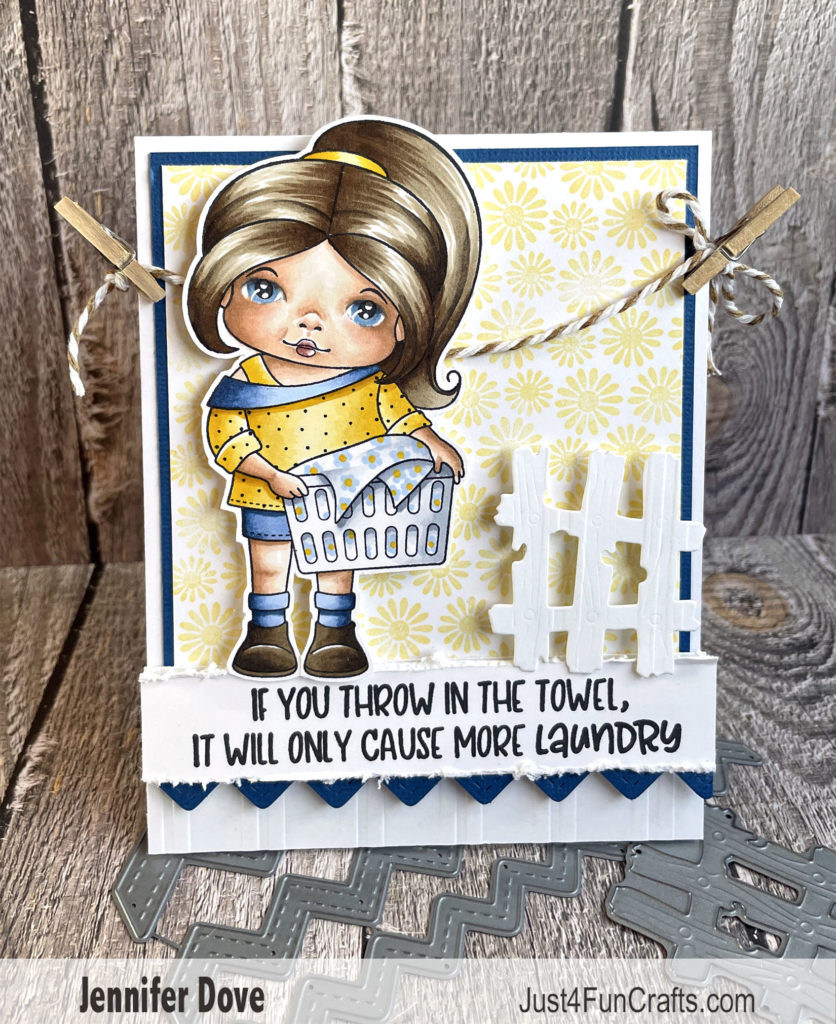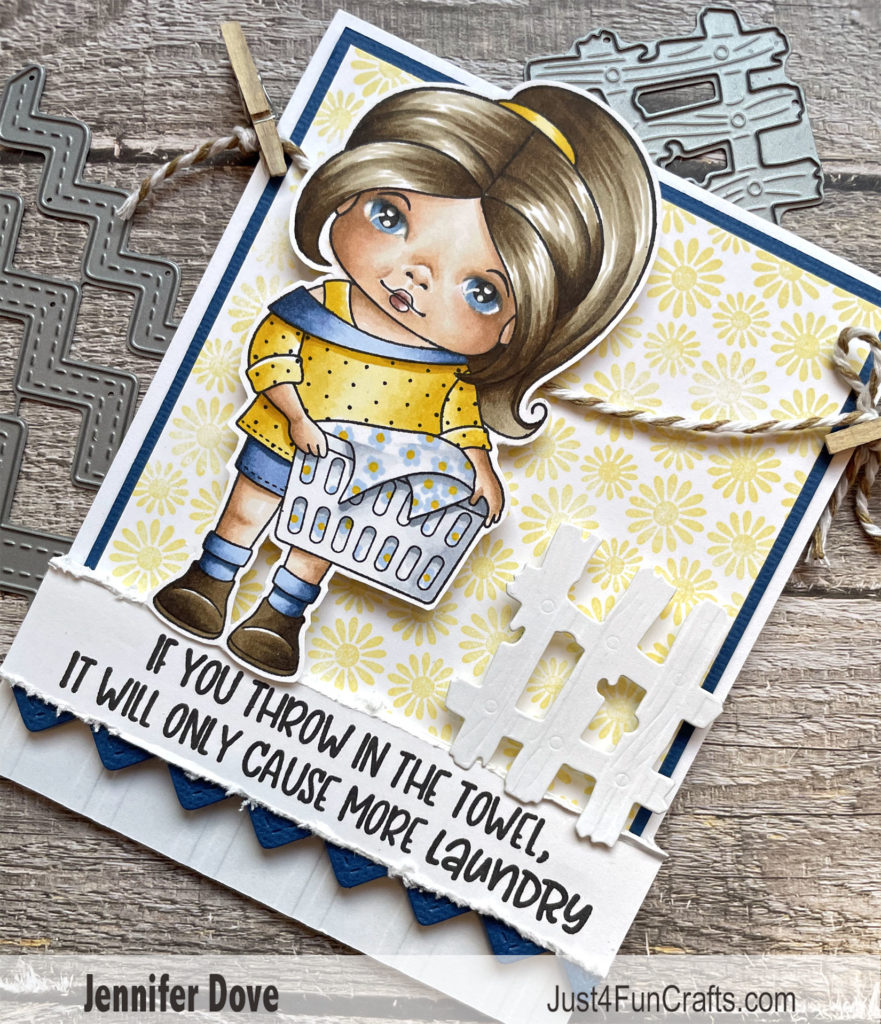 Creating the Card:
First let me talk about this cute card using La La Land Craft products.  You might remember seeing the paper in the background before, and that is because it was actually created using a rubber stamp called Oopsie Daisy.   I sure do love this stamp a lot!  It's fabulous to be able to stamp your own pattern papers to match your images.
Laundry Marci was colored, hand cut out, and popped up off the background above the sentiment.  The little detail of the Stitched Zigzags was added below the sentiment in blue to compliment the outer layer, and the blue in her outfit.  Wanting a bit more color balance to this card the Broken Fence die-cut was added on the right side in white, complimenting the other white pieces on the card.  You can find these fun products in the La La Land Crafts online store.
You will want to keep scrolling for the marker details…
Laundry Marci rubber stamp

Stitched Zigzags die

Oopsie Daisy rubber stamp

Broken Fence die

LINK TO MARKER UNIVERSE HERE, (use code DOVE10 for 10% off your order), OR USE LINK ON MY SIDE BAR OF MY BLOG
NOT ONLY DO I LOVE MARKER UNIVERSE, BUT I PROMOTE THEM EVERY CHANCE I CAN.   I AM ALSO AN AFFILIATE…AND THIS MEANS I DO GET A LITTLE KICKBACK FROM SALES GENERATED FROM MY BLOG.  I AM PRIVILEGED TO PROMOTE GREAT COMPANIES THAT CARE ABOUT THEIR CUSTOMERS, AND THE PRODUCTS THEY SELL.
Sketchmarker Brush Pro Markers:
If you scrolled all the way down here in this post, I am sure you want the scoop on these markers.  Marker Universe brought in some great alcohol markers from Russia a little while back.  They wanted to give them a trial run to see what kind of interest they received before bringing in the full line of 400 colors.  Let's just say they were a hit.
Don't get these confused with Copic Sketch as they are a different brand completely.  Similar to the Copic markers they have vivid saturation, and are not a thinned-out ink like some alcohol markers, giving them a beautiful blend.  They have both a  great brush, and chisel tip.  The cost of these markers is amazing too…and you know with Marker Universe you can use my coupon code and get a discount on all their products…always!
One thing I would recommend with the markers is to DAB clear fingernail polish, (NOT BRUSH IT ON), over the marker identification on the ends of the cap, or get a clear sticker.  With as much as you will be using them you do not want the identification to wear off (this is one downfall with the marker, but shouldn't be a game changer.  Have you been having problems with your marker caps not sealing properly on your current markers?  Well the great thing is that the caps on the Sketchmarkers fit snuggly and wont go dry out.   Just for that reason alone makes these a great investment.  Who wants to invest in a marker that is going to possibly dry out from bad lids?  Not me!  If you have questions on these markers, or colors to choose, feel free to message me.
Sketchmarker Number System:
If you are used to the Copic number system you might require a bit of un-programming, but you will get it.  This number system will feel backwards.  Over the next months, I will share some details to help you choose colors, (or you can just buy them all).  I did a swatch book with all the colors so I can visually see the blending sets.  This helps to get familiar with the markers too, and I recommend you do this with whatever markers you purchase.
I will be using these markers frequently, and will label my blog posts under the Sketchmarker and Marker Universe tab on the right side of my blog, so when searching for projects using the Sketchmarkers  you can find them more easily.
The full range will be available soon, and can be purchased in sets as well as individually.  I recommend you get them individually as you do not need to duplicate markers within the sets.  Some are currently available if you cant wait to give them a try.  I will let you know when the full line is available.
Below you will find the marker numbers I used for this card.
Skin BR11 12 24 65 Cheeks R64
Hair BR80 81 82 Detail BR90
Blue B80 82 93
Yellow Y51 33 44 21
Gray CG4 5 7 9
Lips R83 81
Shoes BR90 91 92