The early bird gets the….ewww…..
This was another fun card to make.  I created the background giving it a very whimsical feel to the card.  I thought big and bold flowers would be appropriate for the finished look.  The new cool sentiments from Whimsy Stamps make such a fun, BIG statement don't you think?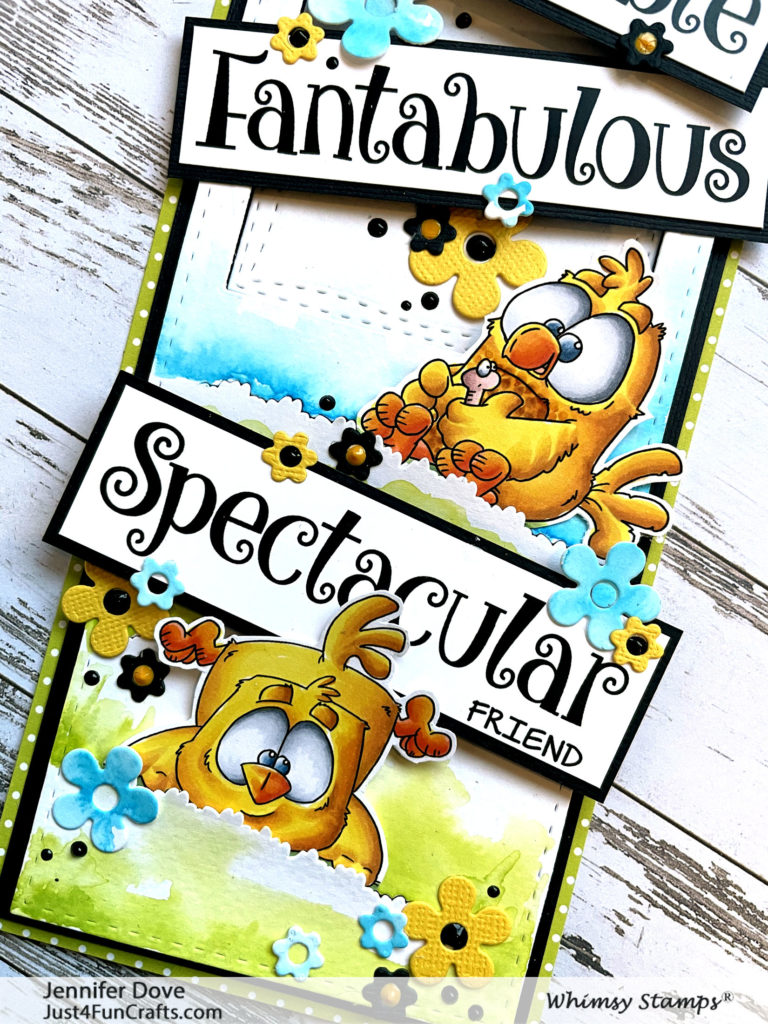 Card Design:
I do not make slimline cards regularly, but I had this idea stuck in my mind, and thought I would see how it came together once I got going.
I started off with the water color paper from X-press It, and then die cut it out.   This paper is perfect for using with the water color  Karin Brushmarkers, and allows for beautiful movement of the water color ink, as well as blending.   If you haven't tried the markers you can check them out HERE. Use coupon code DOVE15 for 15% off your order.
After die cutting the paper using the Slimline Meadow die, I added water with a water brush to the lower edge of each grass line from the Meadow die, then I painted the area using the Karin ink off a palette, and a paint brush.   This allowed the ink to move freely where the water was applied.
With the Copic Markers I colored two of the birdies from the Early Birds clear stamp set, and then hand cut them out, slipping them into the slits in the die cut paper.  The sentiments are from the new Fantabulous clear stamp set and definitely stand out on a card.  Slimline Meadows comes with some cute little flowers, but I also wanted some larger ones, so I also used the flowers from the No-See All Seasons Tree die set.
The finishing touch was to add some of the Nuvo Crystal Drops to the centers of the flowers.  I chose to use both Ebony Black and Dandelion Yellow for this card.
Where To Buy:
Did you know that Simon Says Stamp also carries Whimsy products?  SSS has the Nuvo Crystal Drops, making it so easy shopping all in one place for some of my favorite brands like Tonic/Nuvo, Marker Universe and Whimsy Stamps!
Early Bird clear stamps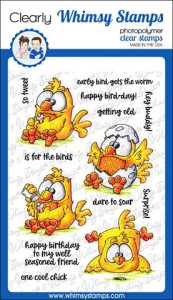 Fantabulous clear stamps

Slimline Meadow die set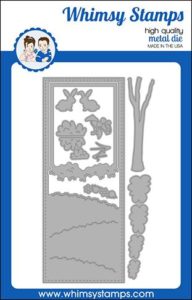 No-See All Seasons Tree die set (flowers)

Nuvo Crystal Drops – Ebony Black and Dandelion Yellow

Karin Brushmarkers  – Coupon Code Dove15 for 15% off your order

X-Press It Aqua Water Color Paper

Copic Markers:
Y08 Y35
YR14 YR27
R11 E04
B91 B95 B97
C0 C1 C3 C5
YR02 YR04 YR07 YR09