I told you I had something fun to show you.  Check out this cool robot set, Beep Beep, from La-La Land Crafts.  This set comes with 4 images to include a dog and a cat that are irresistible.  There are a load of great new products being used on this card, and I know you will enjoy them.  All the links are below.
Card Details:
Have you checked out the Sparkle and Shine paper pack with the metallic gold touched?  This is fun paper, and goes perfectly with the little robot I placed on this card.  A robot just isn't complete without adding gears, so I nested her amongst some of the Steampunk Heart Cogs, and the Small Stars dies.  The end results felt very complete.
I had fun coloring this up, and if you want to give this color combo a try you can find the colors below.  To get the extra shine look I added some white gel pen in the darkest areas. – I hope you enjoyed this card.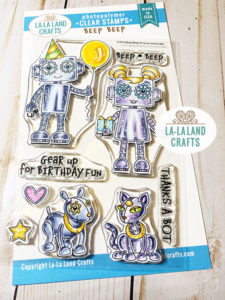 Small Stars die set

Sparkle and Shine paper Packet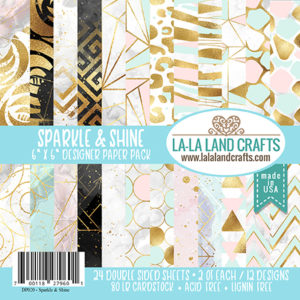 Copic Markers:
RV91 RV93 RV95 R56 RV99
E81 E84 Y28 E87