I wanted to create a "guy" card and thought making a card with the new Woodland Ducks from Whimsy Stamps would be perfect.  I combined the image with a couple other manly looking stamps to make this very dude-like card.
Okay, for all you Nuvo Crystal Drops fans out there, you will get excited at the end of this post.  I am so thrilled I thought of this, I can hardly stand it.  If its been already done, it is news to me.  So be sure and scroll down for the rest of the info.
Card Details:
This card was very fun to create, because I got to work with different textured looks.  After stamping the Zipper, Brick Background and the Woodland Ducks I colored them all up.  The zipper was then cut out, and added in front of the Woodland Ducks.  This combo was then layered onto the bricks.  The upper and lower panels on the card were created with the excess leftover bricks.  In my opinion  guy cards should not have bows, buttons or frilly things, so I decided to use the metallic Silver Lining Nuvo Crystal Drops as accents.  The top two photos were taken prior to the next step…
Now for the cool thing I was talking about…get ready to squeal!  Take the metallic Nuvo, and place them where you want them on your card.  When they are completely dry, use a blade and make a line or a X to make them look like screws for all of them "guy" cards.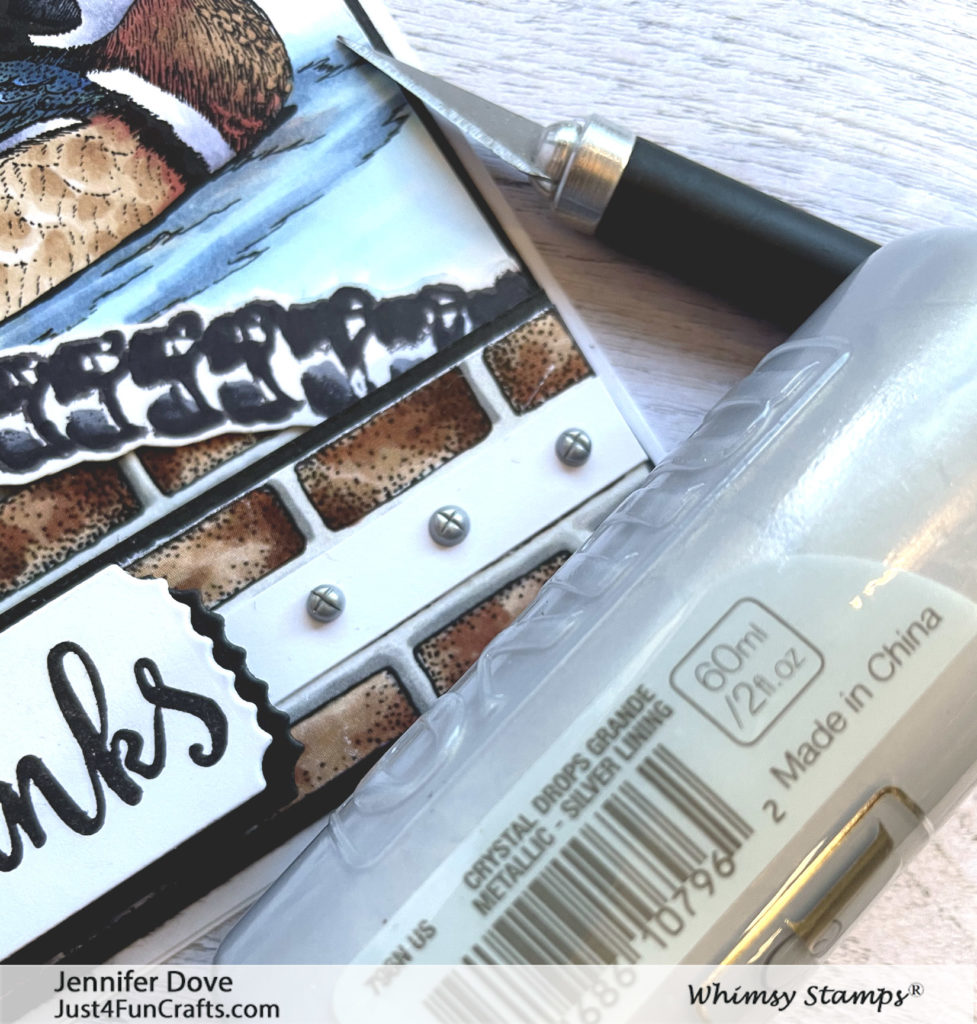 Products Used:
Woodland Ducks rubber stamp

Zipper rubber stamp

Brick background rubber stamp

Silver Lining Nuvo Crystal drops – On Sale now

Copic Markers:
Zipper
C1 C3 C5 C7 c10
Ducks
BV20 Bv23 Bv25
N0 C3
W1 W3 w5
Boo B91 B95 B97
E30 E31 E35 E09
Y19 YG63 R02 R08
V06 B37 B39
E42 E43 E44 E47
Bricks
E31 E35 E57