It is always good to have a few birthday cards on hand, so I decided to create a few for an upcoming local class at The Paper Collage.  I loved this owl because of its large eyes, and like the look of the balloon color added to them to look like a reflection.  It's the little things.
Creating the Card:
Keeping it simple I colored up the Look Whoo owl and layered him up.  This image layer was popped up onto the popped up star layers.  To add to the look that he is in the trees, I added some of my favorite foliage from The Stamp Doctor.  I love all the foliage that they sell, but this Foliage Die #4 felt more tree-leaf like.
Did you know I have a coupon code for TSD?  Be sure and use it anytime you place an order.  You can find it on the sidebar of my blog.
To complete this card, I added some of my favorites…Nuvo Crystal Drops, English Mustard.  Quite a simple card to recreate, and perfect for those last minute birthdays.
Look Whoo rubber stamp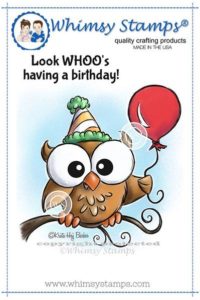 The Stamp Doctor Foliage #4
Coupon Code: Just4funcrafts  for 20% off
Nuvo Crystal Drops – English Mustard

Copic Markers:
V12 v15 v17
Y35 Y38 YR68
YG03 YG17 Yg67
C1 C3 C5
RV17
B01 B02 B05
White Gel Pen