What a sweet gift to receive…a little box of trinkets, or better yet….CHOCOLATE!  This adorable penguin, and the Hexagon Treat Box would make a cute little gift don't you think?  I love how this Treat Box die fits easily in your die cut machine, and is easy to assemble.  Perfect for any holiday!
Creating this Card:
This one is quite easy to create.  What you can not see in this photo is the image is on an Action Wobble and gives that extra something special, with a little wiggle.  Who can resist a waddling penguin?
Using the cool Treat Box die from Whimsy Stamps I created the base and assembled.  I love how the treat box is a nice size, and can hold a decent amount of stuff.  With a tad bit of ribbon I wrapped the lid to bring the colors together.  The inside of the card was designed with a couple hexagons from the Nested Hexagon die set, which compliment the box perfectly.  After the box was created I added the Penguin Prezzie, (comes in digital or rubber), to the top of the box using the Action Wobble.
Easy peasy, quick and eye pleasing!  You can find the products below.
Digital – Penguin prezzie
Rubber Stamp – Penguin Prezzie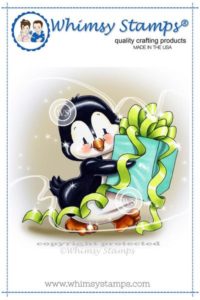 Hexagon Treat Box die
Nested Hexagon die set

Action Wobbles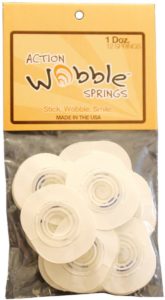 Copic Markers:
C10
C1 C3 C5 R11
Y35 Y38 YR68
B01 B02 B05
YG03 YG17 YG67
White Gel Pen