I hope you are having a blast, and if not, you need to shake it up a bit.  That is what I did with this silly frog stuck in a snow globe.  Ever feel like you're stuck in a bubble…time to shake it up!  Merry Christmas from my crafty corner to yours.
Creating this Card:
As you can see a lot of fun elements went into making this card.
The frog image from Toadally Snowy was colored up, and then the bottom of the snow globe was cut off.  Using the circle die from Shaker Maker Combo die set, I created a frame for the image, because it fit perfectly around the snow globe and added more dimension.  Next I adhered the bottom of the snow globe back onto the frame.
Another way to use the frame is to turn this into a shaker card, but I decided to just keep it as the frame.
Once the snow globe was all assembled I placed it onto the fun grey paper from the Whimsy paper pad, Blurry Flurries.   The "table" was created using the scallop die cut from Kinetic Basics, and then stamped with the Scratchy Plaid rubber stamp.   This layer was slipped underneath the globe base.
The last thing was to add the snowflakes, and Elegant Snowflakes and Border die had the perfect ones for this card.  The final touch was to add the sentiment, some puffy snow, and I topped it off with some antique silver brads from my stash.
By not using ribbons and bows, but instead sticking to brads, I think this card leans a bit more masculine.  We all know dude cards are hard to come by.
Toadally Snowy clear stamp set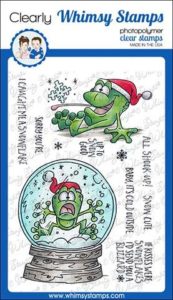 Elegant Snowflakes and Border die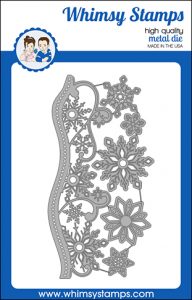 Scratchy Plaid Background rubber stamp

Kinetic Straight basics die set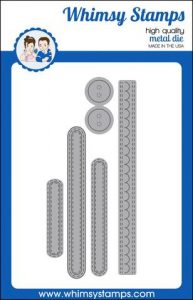 Shaker Maker Combo die set

Blurry Flurries 6×6 Paper Pad

Snow marker by Uchida

Chameleon Markers:
GR1 Poptop GR4
Copic Markers:
W1 W3 W5
R11 E04
R14 R24 R27
N0 N2 N4
YG03