I thought this set was just the "sheets"!  Are you ready for another MUST HAVE ornery ghost stamp set?  Yes, this is it!  Here are some ghosts with attitude.  Each one has a unique expression that will make you laugh.  The sentiments that are a part of this set will make you just "die", and it was so hard to choose between them.  I bet this will not last long in the store!  If this is not your type of humor..that's okay (feel free to skip the post)…but it brought a huge smile to my face.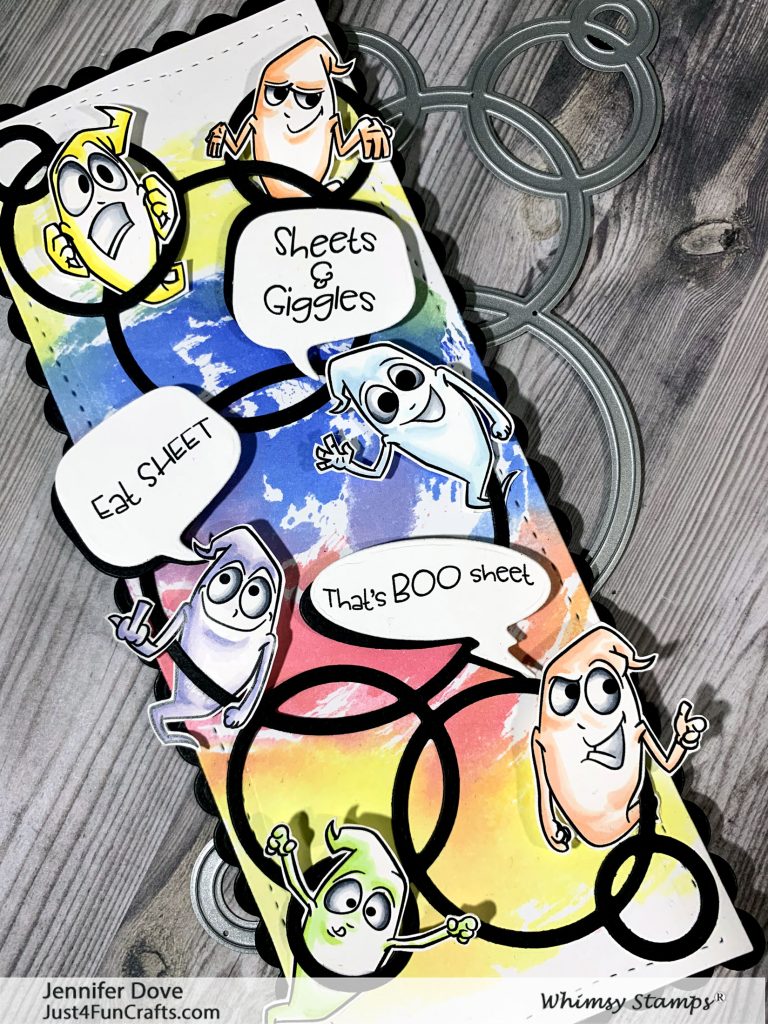 Now you can see how I create these background using the Karin Brushmarker Pro  on my YouTube channel HERE if you want more details.  Be sure and give the video a thumbs up and subscribe if you love it, because it helps my channel grow.
Creating this Card:
First I created the background rainbow paper (see above link).   After I was satisfied with the results, I die-cut the panel out using the Slimline Card Builder die and place it on the Slimline Scallop Peekaboo die panel.  Now that I have my base created I can move to the next steps.
I die cut the Connected Bubbles Slimline out of black cardstock to give the funny little ghosts frames to sit in.  Something about black that really makes it pop don't you think?  Next I colored and hand-cut out all the ghosts from Sheets and Giggles, and placed them into their little circle frames.  The sentiments were then added using the Comic Speech Bubbles die set, with each one mounted onto black cardstock.
For the coloring of the ghosts I used my Copics sparingly in just the shadow areas and left mostly white.
I love each one of the ghosts characters…so ornery!   Some one will get a huge kick out of this unique card I am sure.
Sheets and Giggles clear stamp set

Connected Bubbles Slimline die

Scallop Peekaboo Slimline die

Comic Speech Bubbles die set

Slimline Card Builder die set

Karin Brushmarker Pro – Whimsy Stamps