Here is a fun card I created using only dies.  Some of these dies came from one of  La-La Lands Club kits, and as soon as I saw this kit I had this card idea in mind.  Can you smell the buttery deliciousness of this card?  I think i am now going to go have to make myself some popcorn and attempt to keep my buttery fingers to myself.
I added the links below to the dies NOT in the Club kit, and can be purchased individually from La-La Land store.
How to Get Into the Club:
Current Club Kit subscription and Club La-La Land subscription details can be found HERE.
I love how each subscription Club Kit release is themed and has Stamps and die options or both.  Once you have join the club for a month you can go back and purchase past kits if available.  Its like Christmas in your mailbox every month!  Be sure and check out more of the inspiration in the Facebook group too.
Club La-La Land Facebook Group – The official CLUB La-La Land Crafts group. This group is open to current, past and future CLUB La-La Land Crafts subscribers.  You might want to check out the inspiration, but be careful…you will want to join…you have been warned!
Scalloped Rectangles die set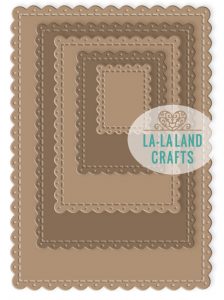 Stage Curtain die set

Copic Markers:
Y21 YR24
R24 R27