Are you gearing up for Halloween?  Maybe you just love spiders, (says no-one ever), well this interactive card might just bring a smile to your face.  I had a blast combining some must-have, newly released products to create this fun interactive card.  There was hardly any coloring involved…just a lot of black stamping.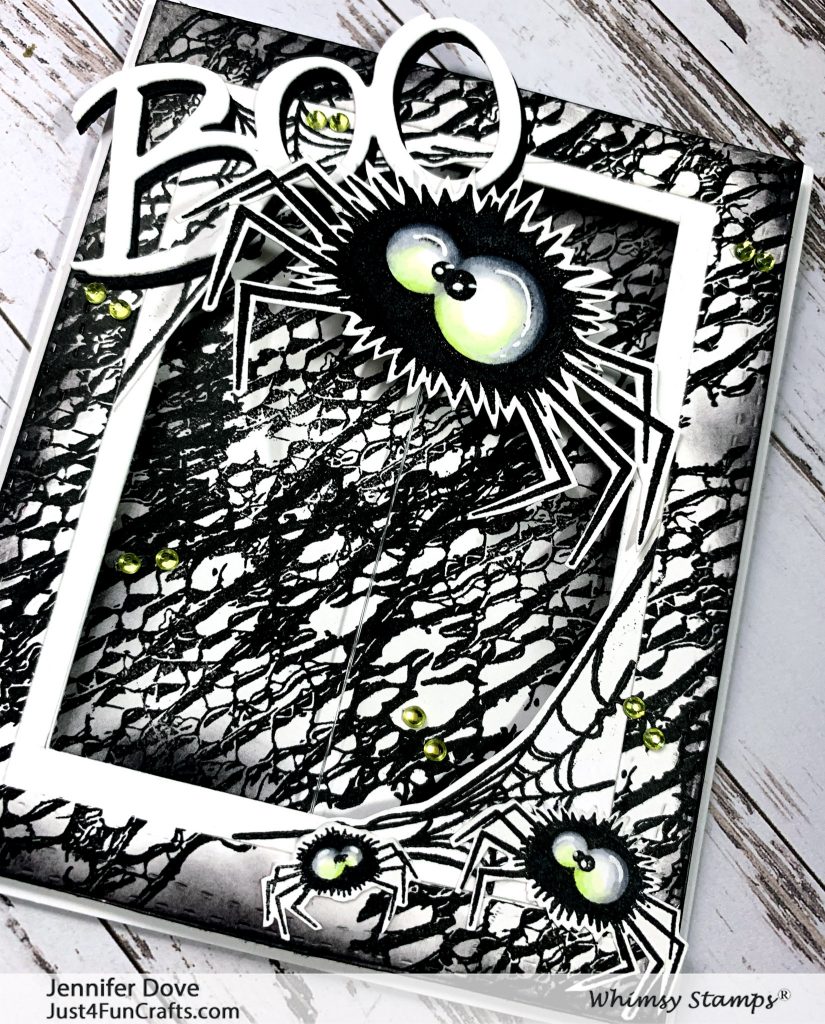 Have you seen the latest release from Whimsy Stamps?  Let me tell you a little about one of the stamps in particular, the new Natures Skeleton.  Natures Skeleton is just that, a skeleton.  No, not your animal or people kind, but rather the skeleton of a cactus.  You heard that correctly.  While walking in the desert I saw a cactus that had given up, all that reminded was the insides.  A hard wood-like substance with beautiful detail.  I plucked it up and washed it and was blessed to turn it into a clear stamp set for fabulous backgrounds.  Here is what it looked like.

Creating the Card:
Using the Natures Skeleton stamp set and a Versafine black stamp pad I random stamped an A2 piece of paper.  I find the Versafine stamp pad is so rich and black that I tend to use it for sentiment stamping and rich black backgrounds.  its a fabulous stamp pad AS LONG AS YOU DON'T USE ALCOHOL INK WITH IT.
Once the background was stamped out,  I created a frame using the Wonky Stitched Rectangles die set.  The center of the frame was adhered to the card base.  Using Fuzzy Spiders clear stamp set, I stamped the spiders with Memento ink, colored over them with Copic C10 to make them darker, colored their eyes, and then hand cut them out.  I adhered a piece of a drinking straw to the back of the big spider as a slide mechanism.  Now I needed something to have it slide on, so I dug around for some fishing line.
The fishing line was taped to the underside of the outer frame with the spider slider on it, and then the frame was popped up on the front of the card.  A cute spider isn't complete without its web and a bunch of babies, so I used the web from the stamp set on the outer corner of the frame and added the babies to the card.  When I placed the "babies" I was sure NOT to get in the way of the sliding portion as those legs can get hung up pretty easily.
The last thing was to add the word "boo" using the fabulous new Boo die, and some tiny green bling to resemble eyeballs amongst the background paper.
Fuzzy Spiders clear stamp set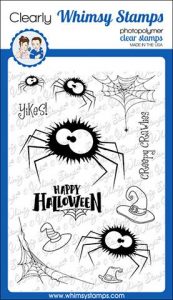 BOO die set
Natures Skeleton clear stamp set
Wonky Stitched Rectangle die set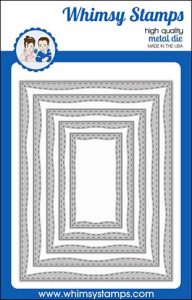 Copic Marker:
C10
BG11
C1 C3 C5
White gel pen