If you need an "OOPS!" card then you need to get your hands on this new die!  Using your imagination "oops" can be used for so many occasions, like "oops! I forgot your birthday",  "oops! pregnant again",  "oops! sorry you got a booboo" and so much more.
Creating This Card:
Before I get started I want to point out a new store feature in the Whimsy Stamps I think you will like.  Because so many items have been HOT sellers and I know you probably wanted them, Whimsy now has a PREorder feature.  This means that the items are currently on order, coming back shortly and you are put on the priority list for as soon as they arrive.
Now onto the card details.  I think this is a fun one so beeware!  Wanting the OOPS! Word and Shadow die to be the main feature I kept it white in order to POP! and then layered it with black cardstock.  This layer is popped up over the fabulous Honeycomb Pattern die which I use quite frequently.  The Honeycomb Drip stencil was used to create the drippy backdrop, and these layers were placed onto some black dot pattern paper to coordinate with the black elements of the card using foam pop up tape.
Those silly little Bizzy Bees were colored and cut and added strategically to the card surrounding the OOPS! sentiment.  Gave you a giggle didn't it?
Bizzy Bee clear stamps – PREORDER
OOPS! Word and Shadow die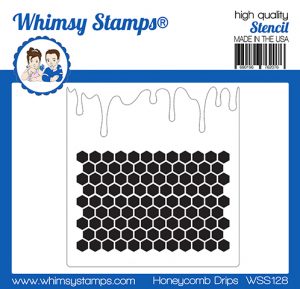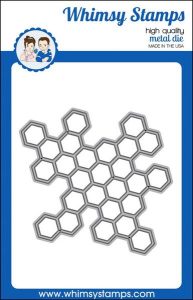 Copic Markers:
E41 E42 E43 E44
C1 C3 C5 C7 C10