I have been doing a lot of backgrounds lately using the Karin Brushmarker Pro, so I thought I would show you how easily they are achieved.  This is so easy that you are going to want every color that Karin has available.
Creating this Card:
Another quick and easy card to make (background included).  Using the crayons and sentiment from the Crayon clear stamp set I colored them up using my alcohol markers, but you could do them in any medium.  Once they were colored, I cut them out and popped them off the fun background paper that I created (see video above on how I created it).  This was layered onto black cardstock.  The last thing to do was die cut the word "GO" using the Bold ABC die set.
Just like that!  Easy, right?
If you are over on the Whimsy Stamps site purchasing stamps and need to get to the free shipping mark, go ahead and throw in some Karin Brushmarker Pro.  They carry a wide variety HERE.  If you want to buy some Karin box sets or you want to try out the watercolor paper I used, use the links below and be sure and use the coupon code DOVE15 at Marker Universe for 15% off you whole order.
I hope you are inspired enough to go color!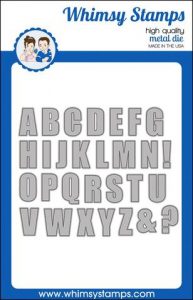 Karin Brushmarker PRO Watercolor Markers – Marker Universe
Use coupon code DOVE15 for 15% off your whole order
X-Press It Aqua Watercolor Paper – Marker Universe
Use coupon code DOVE15 for 15% off your whole order
Tonic Studios Travel Glass Mat (Left Handed recommended so the craft mat is on the left side)