OH MY!   Have I not told you that the spring themed release from La-La Land Crafts was amazing?
I wanted to incorporate blue jeans into this card, and so that is just what I did.  Sometimes on the cloudiest of days we just need a pocket full of sunshine.
Creating the Card
Sweet Molli with Umbrella is out for a walk on a cloudy day, and using the new Your Kindness background stamp and the A Pocket Full made the perfect combination to create the details on this card.  I can already tell that I am going to get great use out of these sets.   A small amount of paper piecing was done to create the jean dress using the background stamp and coloring it with the blue markers to create the shading.
After stamping the Your Kindness background stamp onto white paper, I stamped out the stitched pockets on top of it.  You can cut out these pockets by hand, or use the complimenting dies for the pockets.   At the time that I got these stamps the dies were sold out.  They will be back in stock about the 15th of May and it is on my shopping list, but you can preorder.  By adding some little brass brads for the accents, it completes the pocket look.
A cheery sunshine from the Stitched Sun and Clouds were added to the pockets.  To finish it off I die cut a stamped "jean" panel using the Stitched Clouds border,  and added some stitching with a few more brads to compliment the pockets on the card below it.
Don't you think there is something cool about this bright primary color combination?   This card feels so crisp and clean and I am happy with how it came out.
A Pocket Full clear stamp set
Molli with Umbrella stamp set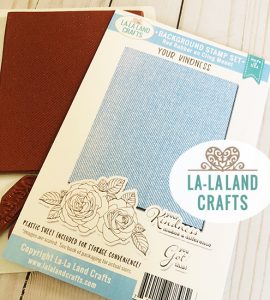 Your Kindness background stamp set
Stitched Sun and Clouds die set

Copic Markers:
E31 E34 E37 E29 hair
E50 E51 E53 E34 R11 skin
R14 R27 R29 reds
B91 B95 B97 blues
Y15 Y19 yellows