After seeing this little cute crabby crab cake I knew I had to capture him in a jar, and so I did.  I decided to add him with my favorite jar stamp.  In the event I liked the way I colored it, I recorded the coloring process for your enjoyment.  Good thing I like it.  More details below in this post.


Creating this Card
There isn't much to tell you about creating this card as it was pretty simple, but I will post the products below the video.
I printed the Crabby Cranston crab out and then stamped the Atlas Jar over it in a light gray.  Once the image was set up on the paper I added some pencil lines to represent the horizon and the sand.  After the sketching was done I colored up Crabby Cranston in the jar .  Using the ZigZag Rectangle die set I die cut out the image and using the foam tape I popped up the frame onto the card base.  The main image was adhered straight to the card base inside the frame.
I used a favorite product, chipboard sentiments, which is unfortunately is no longer available through the original company (Make It Crafty), but Whimsy Stamps still has some in stock to purchase.  HERE is the link to where you can find them.
I hope you enjoy the video, it is a little long, but adding all the layers does take time.  I love reading your comments, so thank you for that!  Feel free to like and subscribe to my YouTube channel while you are there.  Another video coming shortly.  Enjoy!!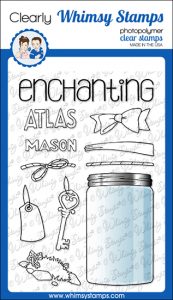 Atlas Jar clear stamps
Crabby Cranston digital stamp

Zig-Zag Rectangle die set
Dr. Ph Martins Bleed Proof White
Copic Markers:
R02 R05 R17 R27 – Crab
E40 E41 E42 E43 E44 – Sand
BV20 BV23 BV25 BV29 – Shadows
B0000 B000 B00 B91 B95 – Sky/Sea
C0 C1 C3 C5 – Jar
0 Blender/Terry Cloth fabric – Texture