Freebie alert!  La-La Land Crafts has been sharing some fun digital stamps and you can get your hand on them for free.  This Koala was a fun time waster this morning and in the end was not a waste of my time.  I think it turned out super cute with the added Creative Color Placement for the eyes.  You can find more details below.
Creating this Card
Have you grabbed the freebie yet?  Go do that now…I will wait.
Did you get it?  After coloring up your image, cut out the inside of the heart creating the opening for the shaker. Cool right?
Cutting out the Koala with the Scalloped Rectangles die left plenty of space for the foam tape to then create the shaker, and this was layered on a die cut tag.   The Hearts Forever rubber stamp is a versatile stamp set and I used it to created the background.  Fun layers were created using the Scalloped Hearts die, and the embellishment hearts came from the Hearts Garland die.  You can use the sentiments that came with the Koala or even the sentiments from Hearts Forever stamp set, as either will work well.
I decided to stamp the sentiments onto the Scalloped Rectangles, and you can see they nicely coordinate with the frame around the main image.
Now is the time to be sharing some love…not germs.  A fun card might just be the perfect thing.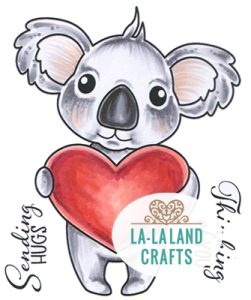 LA-LA Land Crafts FREE Koala with Heart digital stamp

Scalloped Heart die set

Heart Garland die

Hearts Forever Background rubber stamp set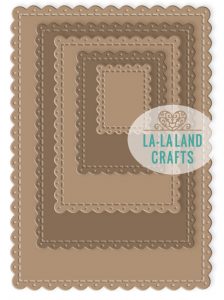 Scalloped Rectangles die set
Copic Markers
C1 c3 C5 C7
W1 W3 W5
B21 B24 B26
R11