Enchanted Marci from La-La Land Crafts was just sitting there waiting to be colored, so I thought now would be the perfect time to do it.  Its amazing how much supplies we just hold on too.  Now is the perfect time to play.  This card just makes me happy.  if you do not have any of these adorable characters La-La Land is having a special sale.  You can go HERE to check it out and use promo code STKUP25 during checkout for 25% off the order.  The sale goes from March 21st – 26th 2020.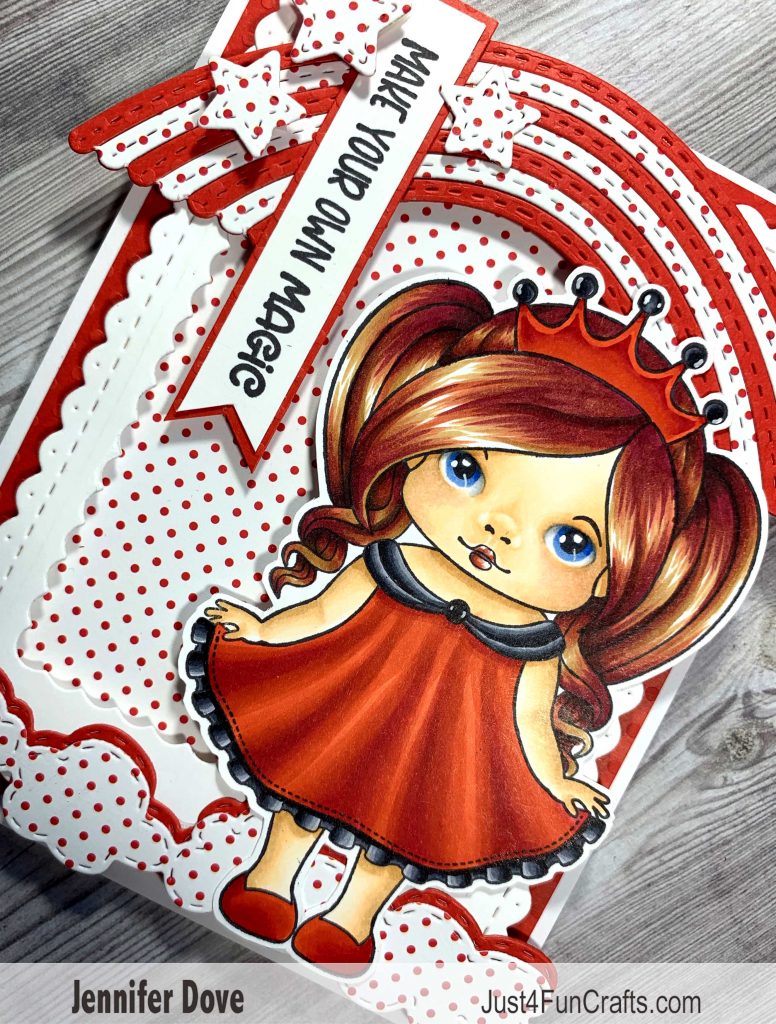 Creating the Card
Marci comes in red rubber with some cute sentiments to make a well rounded out card.  For this card I colored her skin and hair and then sat and stared at her until she told me the colors to use.  I thought red and black would be different.  I posted the color combos below.
The card itself was super fun to create.   It was easy to create the rainbow as the pieces don't all just fall apart.  You can cut multiple layers (or more) and layer them up.  For this Stitched Rainbow I put adhesive on every other piece and then layer the dot paper on top of the red layer.  Using scissors I just cut off the top layer of the ones not adhered down.  It layers perfectly.  I added a double layer of the Row of Clouds die for her to be standing on.
All the layers were added to a frame I created using Scalloped Rectangle dies.  To create the frame I took two of the dies and nested them together using removable tape.  Once die cut I discarded the center and your frame is ready.
Small Star dies were added to complete the "magical" card.
Enchanted Marci rubber stamp

Stitched Rainbow die

Row of Clouds die

Small Stars die

Scalloped Rectangles die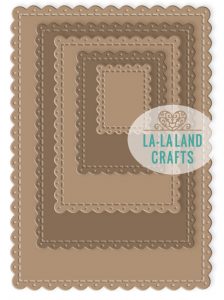 Special Tip:
Do you want to create a great red hair combo?  If you flick in the colors, go from R59, E08 to E35.  Once all the flicking is complete you add E79 to separate the strands and blended them with the R59, E08 and E35 when needed.  The E79 was also added to the hairs shadows.  Yummy combo!
Copic Markers:
R08 R27 R29
E50 E51 E53 E55 R11 SKIN
E35 E08 R59 E79 HAIR
B23 B28 EYES
C1 C3 C5 C7 C10