I have been playing around with another medium lately.  This medium is so mindless and is pretty much sculpting with fibers.  It is called Needle Felting.  The process is taking a raw loose wool and poking it to death with special barbed needles until it becomes a more solid state.  Very therapeutic and not at all hard.  There is a learning curve.   You will painfully stab yourself many times before you learn it is not a fun thing to do.  A fabulous way to get out your aggressions though and highly recommended.
I thought I would do an interpretation of a stamp from the Dustin Pike stamp line sold through Whimsy Stamps called Fairy Llamacorn Magic.  I just recreated the Fairy Llamacorn in wool.
"When someone told me I lived in a fantasy world…I nearly fell off my Fairy Llamacorn"
Over 250 small wool balls were created to make this funny creature.  I think I never want to do that again.  The end result was worth the process though.
Here are a few step out photos so that you can see the process.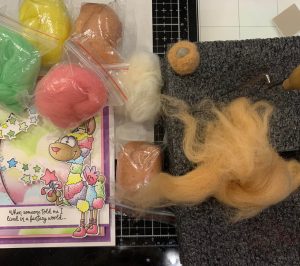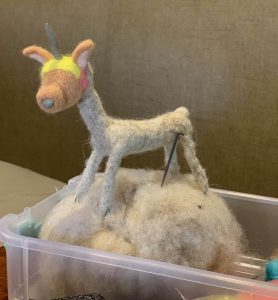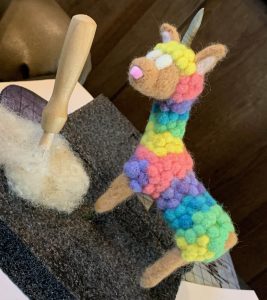 If you would like to read up on the process if creating the card you can find it here on my blog.
Most the items were purchased through Sarafinafiberart.com.  I am not endorsed by this company but have had great experience with ordering from them.