I am so ready for some time in the woods.  Using Campsite, a newly released stamp from Whimsy Stamps, I created this scenic card.  How perfect is this for a guy card.  I love the added dimension from the Forest Majesty dies.  Check out the details below.
Creating this Card
Have you had a chance to check out the wide range of background stamps from Whimsy Stamps?  If not, you must.  I love being able to create my own paper to compliment the stamps I color.  This background stamp is called Tartan Plaid and looks amazing in all colors.  They stamp well as they are red rubber giving all the details in crisp lines.
After coloring this image Campsite,  I placed it into the some colored cardstock in a color that would bring out the colors in the Canoe.  This draws the eyes back into the image and gives it a nice frame.   I layered it onto this onto the background paper .  Once the background paper was layered on the colored cardstock,  I wrapped it with some natural colored twill from my stash (yes, the boot impression was already on this ribbon).
The trees from Forest Majesty were popped up over the ribbon and image for dimension.  Using the sentiment "Adventure" from the dragon set, I die cut a banner from the Quick Strips die and placed it over the ribbon and trees.
This style stamp is so easy to color as the details tend to hide imperfection.  If this style scares you, you really should give them a try anyways. It makes your coloring look awesome no matter what.  This card has a wonderful well rounded feel.
Campsite rubber stamp

Forest Majesty die set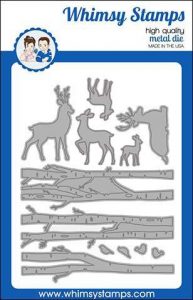 Tartan Plaid background rubber stamp

Camping Dragon clear stamp set

Quick Strips die set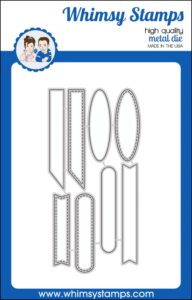 Copic Markers:
R02 R05
E81 E84 E87
YG61 YG63 G94
E41 E43 E44
W1 W3 W5
B000 B91 B95
YG03 YG67