Are you wanting to send out a good chuckle?  Then this is the set for you.  These little rats (mice) are into all sorts of mischief and can not wait to create trouble all over your cards.  Their little faces, SqUeeee!
This set also has a die set option rot go along with it making those images with tails easy to navigate around.   I can not wait to get another card made with this set…so many ideas scurrying around in my head.
Creating the Card
I wanted to give the impression of cheese holes so I used the checkerboard background.  The funny thing is…I didn't know that Whimsy was coming out with a die called Swiss Dots that was exactly what I could have used.  I will put a link below for you to have options.  Instead I came up with my own plan to use the Checkerboard A2 die background and pop the die cut off the background to give it dimension.
Once I colored up the image I cut it out using the Wonky Stitched Rectangle die to create a mat around the mice.  This layer was popped up onto the checkerboard background of which was popped up off the yellow cardstock.  I am sure you can tell already there is a lot of popping going on.  I added the large Scalloped border to the top with little Nuvo drops in each scallop.  The sentiment was a scalloped layer with the sentiment on top as if it was a table for the mice to stand on.
What a fun card, right?  I for one aren't much into live mice or rats and all the trouble they can cause,  but I sure do love the adorable ones I can stamp and color.
You can find all the links below to get you into plenty of trouble.  Happy shopping!

Say Cheese clear stamp set
Say Cheese die set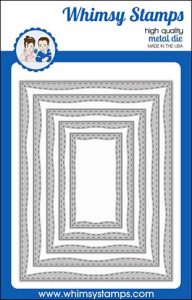 Wonky Stitched Rectangles die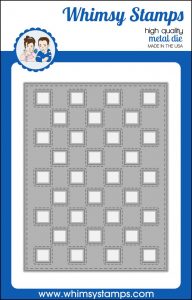 Checkerboard Background die

Swiss Dots A2 die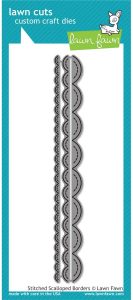 Lawn Fawn – Scalloped Border

Tonic Studios – Nuvo Crystal Drops – Dandelion Yellow
Copic Markers:
Y13 Y15 Y18
E41 E42 E43 E44
C1 C3 C5
R11