Do you love interactive cards?  This one has a little "boingy" thing behind the little voodoo doll.  If you saw it in person you would get a little giggle as he gives you a little wiggle.  I creates this card for the class I will be teaching in January at The Paper Collage.  Did you know you can find my class schedule on my blog HERE.  if you are not local you might be able to get yourself a kit too.  Just contact the store, or head over to Whimsy Stamps and grab your stamp sets and get creating.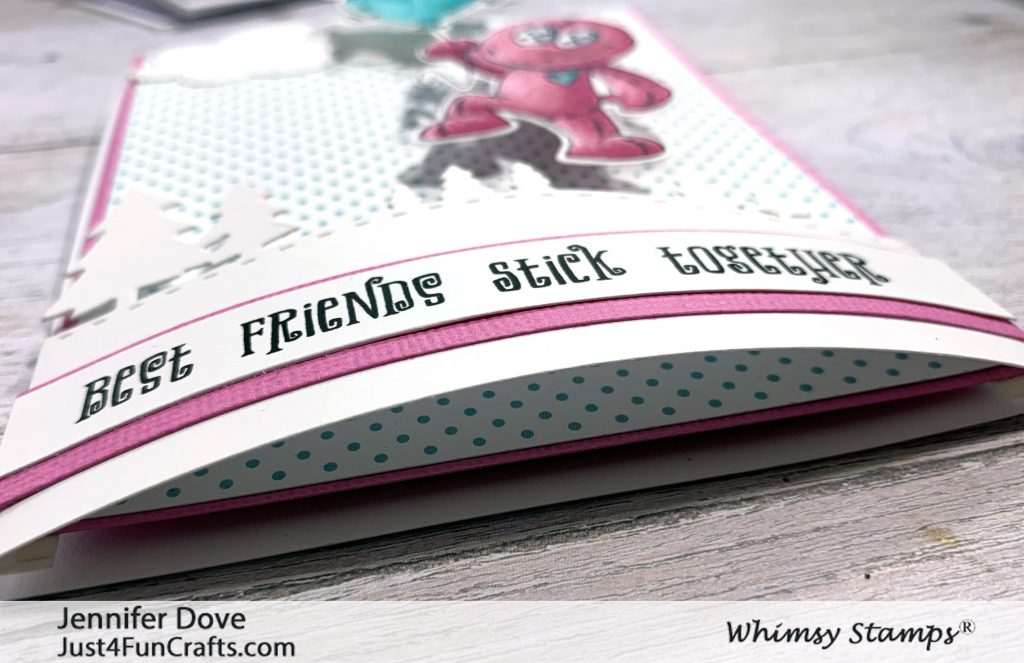 Creating this Card
There aren't to many layers to this card making it quick and easy, but exciting all at the same time because the layers I do use make the card interesting.  For this card I layered teal dot paper onto a complimenting pink cardstock.  I want the trees to have dimension so I die cut the Mountain Majesty border and cut off the little house portion.  When I cut the border down I left it slightly longer edge to edge.  You want it about an inch long then the card width.  You will score it about 1/4″ on each side of the die cut border and adhere with strong adhesive onto the inside of the base card layer.  This will bow the center of the border giving it the dimension.   Once that was completed I popped the layer up onto the card base.
Using the cloud from Up in The Clouds die set in the upper left corner of the card I color and cut out the voodoo doll.  He was placed on an Action Wobble to give him a wiggle.  I stamped the sentiment and matted it up and adhered it to the bottom border.  Not a lot of layers but oh-so-very FUN!

Up in the Clouds die set

Mountain Majesty die set
Copic Markers:
RV34 RV17 RV19
BG15 BG49
BV20 BV23 Bv25