How can you resist this!  I just could not!!  La-La Land Crafts just released these adorable stamps and my mind went into create mode.  I combined 3 fun stamp sets in the making of this card.  I tried really hard to keep it non-traditional colors but then POW!, red happened, making it perfect.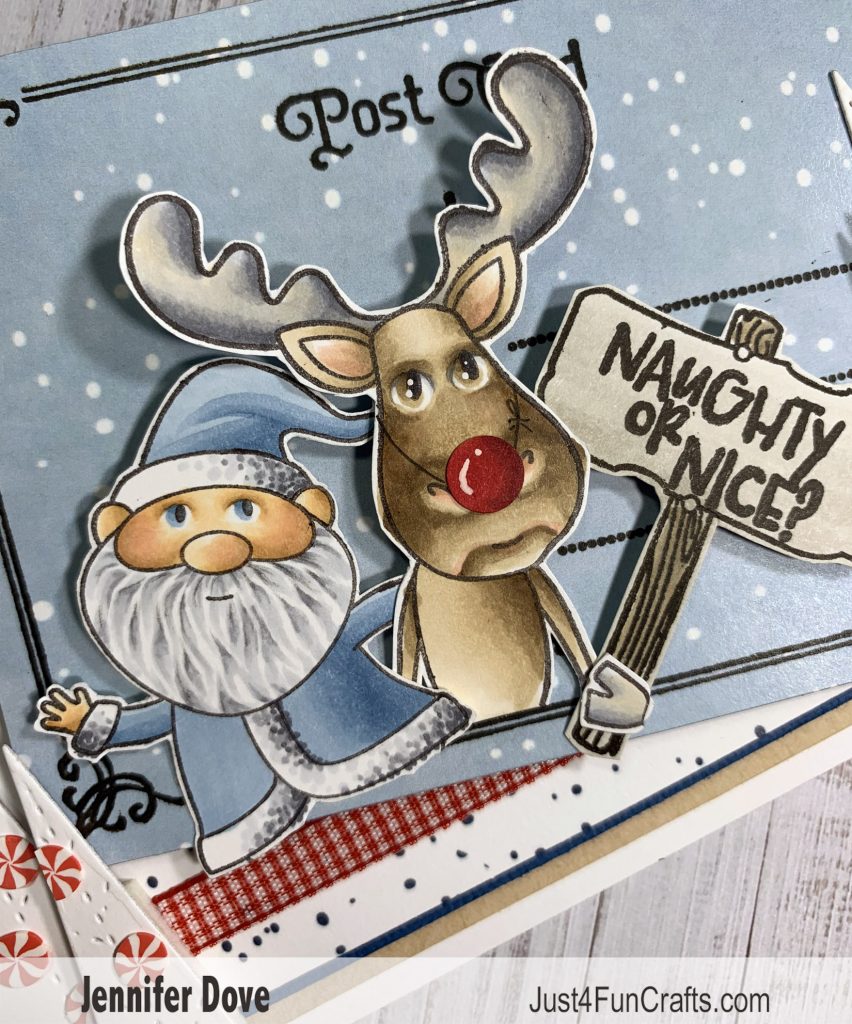 Creating This Card
Okay, where do I event start.  Not knowing the exact direction this was going to take me.  The post card was going to be my main focus.  Using the new La-La Land Blue Christmas paper totally made sense for this card.  I wanted to use the Moose from the woodland Happy Trails set.   I stamped my images and started to color them matching the paper I had chosen.  From Moose to Santa…from Santa to sentiment, it all started falling into place.
Once all of it was colored I chopped off the legs of both Santa and the Moose and started placing them on the card where they looked comfy.  The left and right side of the card felt empty, so I filled the void with the fun Stitched Trees.  But if that wasn't enough, I wanted to add a little color to the trees so you can differentiate between them.  Adding the Sprinkletz was perfect EXCEPT that it was the only red on the card.  So, I ripped off the brown ribbon I once had on the card and replaced it with red gingham.  Once I brought in the color red onto the card it was the perfect opportunity to add a red nose to "Rudolf the red nose"…Moose.  PERFECTO!
All the products can be found using my affiliate links below.  Go get in the spirit of Christmas!
Happy Trails clear set
Dear Santa clear set
Christmas Postcard rubber stamp set
Stitched Trees die set
Blue Christmas Paper

Sprinkletz