Have you seen the October release from Whimsy yet?  I think this is a favorite!  I used two of the stamps from the DoveArt release, Peaceful Stream and Snowflake Frame.  These stamps pair up so nicely.  This card is the perfect Christmas wow card without having to work too hard.  These stamps can be found in the store now.  Get started in the mass production, because you have put it off long enough!
Creating this card:
Oh, the fun I had creating this card!  I wanted to keep it light feeling, frosty, like a new fallen snow.  For this card I colored the inside scene using very light colors.  Of course glitter is a must because what is snow without sparkle, so I added some microfine clear glitter.  It is too bad you can't see it in the photos…but trust me, it is there.  Next I stamped and airbrushed the snowflake piece using the same light colored markers.  After die-cutting out the center of the frame using the Rounded Rectangle die I popped it up on top of the image.
To top it off I added a cool bunch of die cuts that just MIGHT be a sneak peek for next month.  I think it rounds it off nicely!  You can grab these products through your local store or online.
Snowflake Frame rubber stamp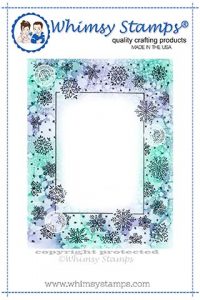 Peaceful Stream rubber stamp

Rounded Rectangle die set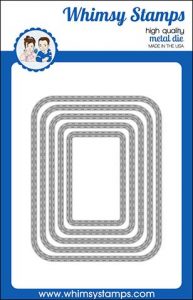 Copic Markers Used:
B00 B000 B0000
BV0000 BV00 BV01
YG61