While you all are freezing your butts off…this is me in Arizona!  Okay, I have to admit it is gonna be 40 degrees next week, Brrr.  What a fun stamp this makes for those of you in the warmer states.  Don't you think that Frosty Hugs clear stamp set with the perfect combined of some adorable snowmen and Penguins?  You can find it, and the other set in the latest mid-October release in preorder.  Be sure and get your name on the list by clicking on the link and asking to be notified.
Creating the Card:
Talk about a fun card to make!  After coloring and cutting this one out I started the layering process.   I wanted to stick with the red and blue theme for this card.  After placing the pattern paper in the background, I used the the Scalloped Rectangles from La-La Land Crafts to create a frame.  This layer is popped off the background,  I could have made a shaker but felt this would be too cluttered.  Keeping it simple, I popped up the image and then layered it using the straight scalloped border from the Kinetic Straight Basics die set.  My favorite sunshine was popped up off the top corner with a little ribbon tied to the sun-ray, and to keep the balance in pattern, I added ribbon to the bottom of the card.
FUN, Fun, FUN…in the Sun!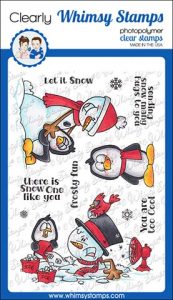 Kinetic Straight Basics die set
La-La Land Scalloped Rectangles die set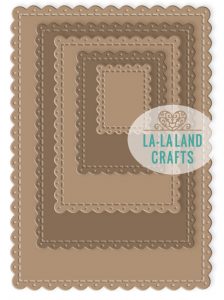 Copic Markers Used:
B0000 B000 B00
C1 C3 C5 C7 C10
R05 R14 R29
Blender Marker (0)
R11