This image needs no words.  The feeling is tranquil, only the sound of birds chirping, creaking of the old rocking chair and the whistling wind amongst the trees.
This is one of the latest in the DoveArt line of stamp from Whimsy Stamps.  This image was fun to color and was the perfect stamp to just sit bak and relax while coloring.

Creating the Card
There was not much to creating the card other than doing a little layering and framing.  I used Whimsy Notched rectangle dies to create the frame and then popped it up over the colored image.  See, I told you there wasn't much to it.
I know you are going to love this stamp as well as the others in this release.
Mountain Cabin rubber stamp
Notched Rectangles die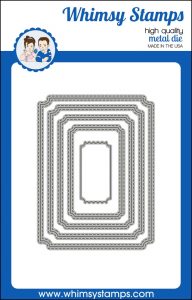 Marker Colors:  Nope…honestly I grabbed a little of this and that and even if I told you the colors it wouldn't make sense :)…if you just HAVE to know I will post a photo of color list upon request 🙂