I had an amazing time getting to have a play-day with Mechele from The Stamp Doctor the other day right before we hit the road with the RV heading to Alaska.  We hung out and colored this Coffee Cup Cake stamp together.  This set is cool because you can do a cupcake or a coffee cup with whip cream on top.  Nothing quite like adding a cherry to top it all off when you are done.  This is a MUST set.
When we were all done we both used the same card base to create different cards.   This is what I created using products from TSD.
Thanks Mechele for your friendship and day of fun!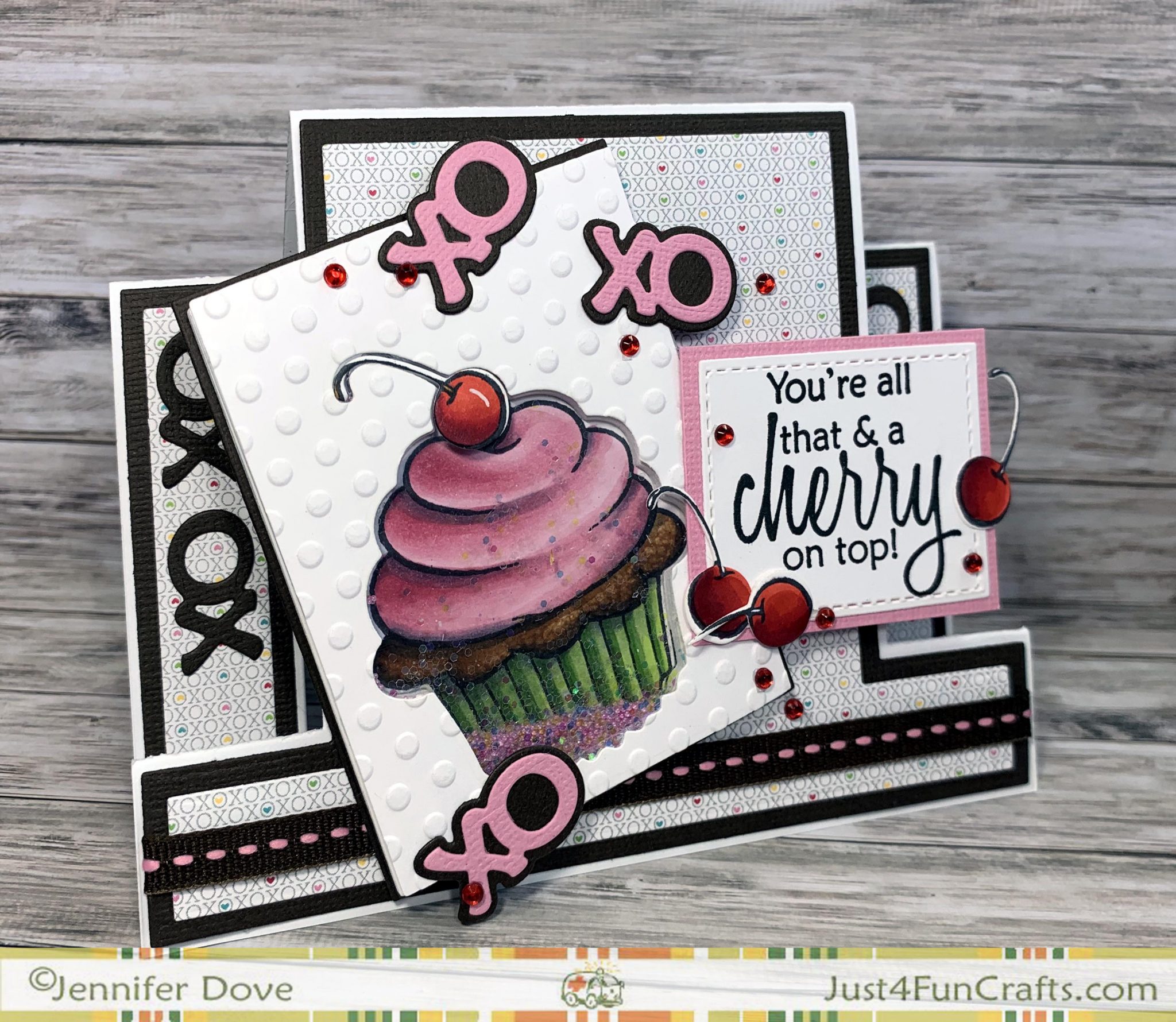 Creating the Card:
I thought a shaker would be perfect for this sweet cupcake.  It is always so fun when a stamp set has a die option.  We both stated out by using the Center Step card base.  Having the layers makes the process of building the card so much easier as you do not need to measure and cut…just die cut the pieces out.  The little XO die was perfect for this card and I love that it has layers.  How cool is it to have paper with XO's on it too.
After the coloring was all done I embossed a white piece of cardstock and die cut out the cupcake silhouette.  Next you add acetate and foam tape to pop it up…sprinkle some goodies inside and adhere down to your image.
The sentiment with the stamp set was perfect for this stamp and all I needed to do was add a few extra cherries.  The die set comes with a cherry die making it a cinch to add the as embellishments.  So easy, so fun!  You can find the links to the products below.  I also have a 10% off link on the sidebar if yah want a discount on the non-discounted items.  Yay!
Coffee Cup Cake Stamp set
Coffee Cup Cake Stamp set COMBO (save 20%)
Center Step Card Base die (with optional layers)
XO die
Copic Markers:
R24 R29 R59
R81 R83 R85
YG03 YG17 YG67
E43 E44 E49
BV20 BV23 BV25