Sometimes a simple card is needed.
This elegant "Rustic Covered Bridge" from Whimsy Stamps is the perfect stamp for a simple card because it could be both a feminine or a masculine card.  Very versatile!
Personally I am a fan of covered bridges and feel there is something very mysterious about them.  I always want to find the history behind it, and the first question about covered bridges might be, why is it covered?  Usually a simple bridge might have been sufficient, but someone took the time to cover it.  Could it have been to keep it from getting wet and slippery in the winter months?  Do you have the answer to this?  Leave me a comment if you know the answer because I would love to hear it.
Creating the Card
This card creation was easy and I enjoyed the coloring process with my favorite medium, Copic Markers, I also die cut it out using the inner piece of Card Builder Window die and layer it all up.  A simple piece of twine is all it needed to add a little texture to the card.
Wanting a simple sentiment,  I used the fun Thanks Word and Shadow die because you can make the layers match simply by changing up the papers.
You can recreate this card using any stamps but if you love the ones I used, you can find them at the links below.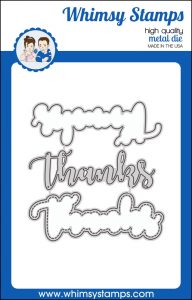 Thanks Word and Shadow die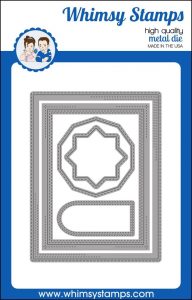 Copic Markers:
YG03 YG63
W1 W3 W5 W7
R56 R59
C3 C5
B91 B93 B95 B97
E42