I bet you were expecting bunnies weren't you?
This image is from Power Poppy and I actually colored it up over a year ago and it sat and patiently waited to be created into a card.  Well, you just can't let fun coloring go to wast, so yesterday I decided I would create a fun card design using it.  I am thrilled to tell you that this gorgeous image is available in both clear stamps as well as digital.  For all those Beer lovers…drink your heart out!

Card Design
I had fun making this card.  I took a cardbase and cut out the center of the front of the card.  Then I added a die cut fence panel between the two outer edges so that you can see through it.  It lightens the front of the card up so the feature is more of the image than the pattern paper.  This card is as simple as that!  I hope you enjoy a little inspiration on this card design I came up with.  So super duper fun.  These images are just in time for St. Patties Day too!  Enjoy!
O Hoppy Day Clear Stamps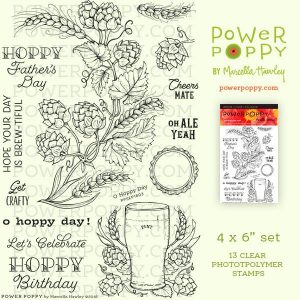 Hops and Barley Digital
Copic Markers:
R20 Y21 YR24
YG11 YG03 YG17
V22