I just got a moment to play with this stamp set I received Heartfelt Creations Booth. I saw it and knew exactly the creation I had in mind. It was hard for me to step away as I kept wanting to add more. I just love this You're a Hoot stamp set don't you?
I was super excited to get to look around the Heartfelt Creations booth at CHA in Phoenix this past January. Talking to Emma Lou and the team just reconfirmed what a wonderful company this is. So dedicated to their customer and products. Very genuine in all that they do…real people! You can see the love in the cards they display and the products they release. If you haven't joined their facebook yet you really must. It is so inspiring!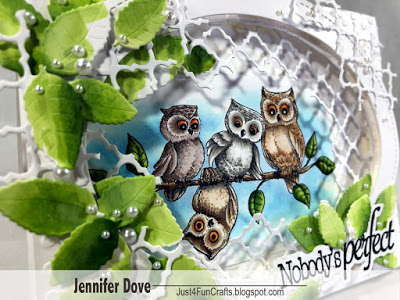 I tried keeping the overall color choices simple created this fun card. Check out all the layers! Be sure and grab your stamp set while they are available. Whooooo doesn't like sweet funny owls?
Copics:
E40 E41 E42 E43 E44 E47
B32 B000 B0000
W00 W1 W3 W5
E30 E33 E35 E37
YG03 YG17 YG67
C8
BV20 BV23
E31 E35 E37
YR12 YR18
Tonic Quatrefoil Die (discontinued)