I have some super fun new products to show today. I got a chance to color up the new Easter Bunny Chibi from Bloobel. She is just the cutest chibi spreading Easter cheer dont you think? I wanted to create my own background to match my project so I chose to give the NEW Nuvo Shimmer Powder a try. Oh my gosh what a fun medium!!!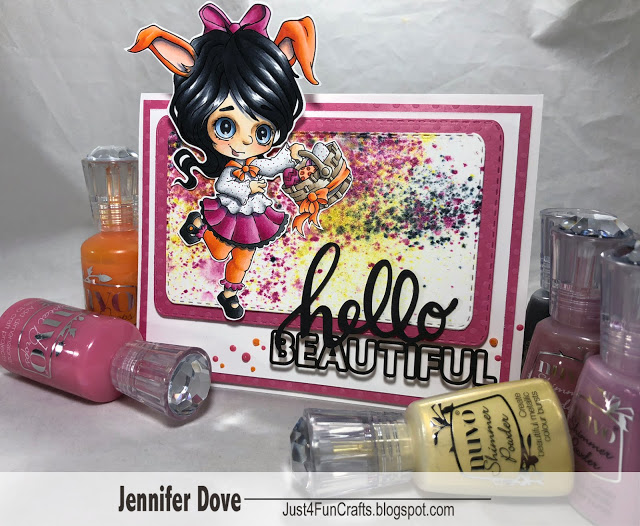 The Shimmer Powder is a very rich mica dust in an easy to use bottle. I sprinkled it on a white background and then using the Tonic Light Misting Spray Bottle I spritzed water and watched the magic happen. Its softens the mica and the shimmer explodes on the paper.
As you can see I used very little of the Shimmer Powder and it still gave it a fantastic coverage. The paper did curl while wet but quickly flattened out. If you ever have the page curl and want to make sure it curls back you can heat set it. Heating the back of the paper causes it to curl the other way more quickly.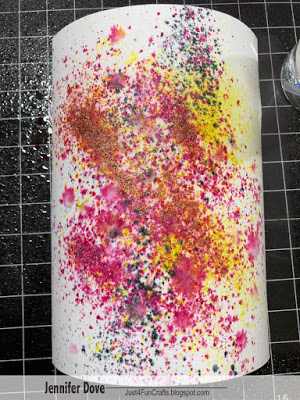 Once it was dry, I die cut the piece out with a small stitched rectangle and fussy cut my bunny to be the focal point of the card. After assembling all the layers I added the Make It Crafty coolest chipboard sentiment colored in black. I glued it to the front of the card on a popped up layer to add more dimension. Finishing it off with the Nuvo Crystal drops in Carnation Pink and Ripened Pumpkin to bring it all together.
I wanted a very small dot pattern on the little girls shirt so I shaded it first with the markers and then used a .05 pink multiliner to do some simple dots. I love the results…simple!
Copics:
Eyes B21 45 97
Shadows BV20 23
Basket E40 42 3 44 47
Pink Ears R11 E04 E93
Oranges YR02 04 07 09
Pinks R55 RV09 RV19
Shirt shading N0 1 3 5
Ruffle and shoes N5 7 10
Hair C5 7 9 100
.05 pink multiliner