Ahoy ye Halloween lovin' scalleywag!
Sum Scar'y loot be happenin'! Read On Matey!!! Don't ye be skeerd!
I thought I would have some fun with….Tommy paint and some garbage this week. Yes, garbage I say!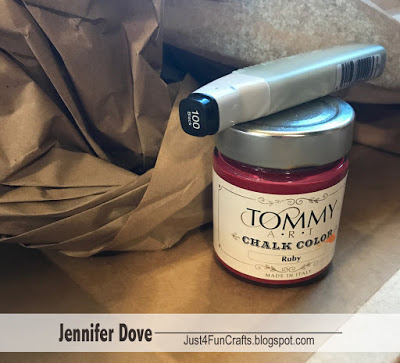 First I took a box that my new Tim Holtz Stamp Platform came in, (by the way it comes very nicely packaged), and decided to use it as a frame for my project. I needed brown paper so waited for Amazon to stop by and drop off a package knowing that there would be packaging paper inside…and yes it did! I gathered some of my gaudy bling and buttons. Got out my Tonic Silver Nuvo Gilding flakes and Indian Gold Nuvo Embellishment Mousse. I got one of my favorite metal stencils from Stampendous, . I grabbed my Air Compressor, black Copic marker and Ruby red Tommy chalk paint and got to work!
Here are some of the gruesome details. I honestly didn't know what I was doing and the whole project was a big crafty, messy, mysterious project of which I had no clue of the results with a vague idea of what I was doing. I was totally flying by the seat of my pants of this!
I literally started with a roll of scotch tape and some brown paper and the bottom of a box.
After I laid out something that resembled a skull…kinda sorta…I grabbed the hot glue gun and started attempting to glue it together (as the tape wasn't holding. It sorta worked. The messy project was taking shape.
Once it was all holding together (more or less) I grabbed my Ruby Tommy Chalk Paint and proceeded to paint the whole thing in red. The one thing I love about the Tommy chalk paint is the vibrancy of the colors. I also love that a little paint goes a long way. After the Tommy Chalk paint quickly dried, I got out my black (100) Copic marker and Copic Airbrush machine and covered the whole thing in black…crossing fingers my experiment would work. Taking rubbing alcohol I started wiping off as much black as I could to allow the red to show through. It worked!
I rubbed the cardboard frame with Black Ash Nuvo Embellishment Mousse and let dry. I decided to top it off with the Silver Bullion Gilding Flakes, just a thin layer of adhesive I rubbed on the flakes and brushed off the excess. Next I and added a design on the frame with the Indian Gold Nuvo Mousse, the stampendous stencil and a palette knife.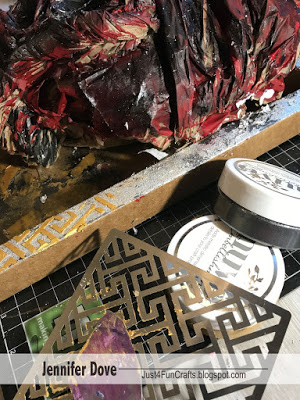 I glued on a bandana, pirate earring, made a eye patch and glued on some pirate loot! What a fun spooky decoration. Maybe he needs some lights to light up his eyeball socket.
For all those who love the spooky side of things…what do you think? See you can create fun stuff out of garbage!