Here is a fun card I created with Balloons Riley. I added some tiny facial features to him…I think he is all puckered up…I know I would be if this happened to me. Once colored I added him to a card base I created using the Clouds to Waves dies by Rhea. I ran them through an embossing folder for added texture after I did a little cloud airbrushing on the background. I used my new Thank You circle frame to feature Riley and called it done!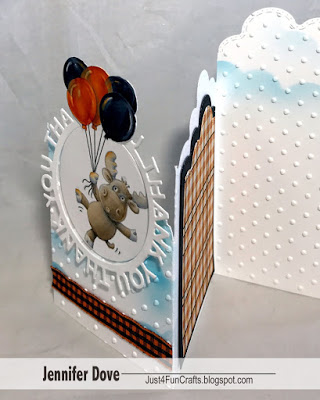 Riley the Moose is always getting into something. This is no exception. The same company that does Riley & Co. also works with Karen Burniston and carries the Prickley Pair as well as the Funny Bones line of stamps. If you want to chuckle your heart out you must check them out HERE.
Thank you to all the sponsors for this years event. You make it extra special!