I always love a fun challenge! Even though I am in time-crunch mode for Copic Boot Camp I just couldn't resist this! Thank you to Janice for thinking up this bit of fun.
What was the challenge? The challenge was to take her card of inspiration and create it again with more dimension, anyway we saw fit. She challenged Barb with Little Miss Muffet (Using one of her Polka Dot Pal – Kacee) and then in turn Barb "made" me do it too. We didn't get to see the other's creation until it was all done.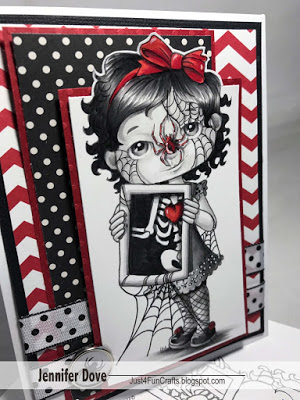 Here is mine…I wanted to add a bit more of a realistic spider and web. Googling images online for reference really creeped me out (hate spiders and googling spider on nose was even worse…don't do it)
Polka Dot Pals are image with just dots for eyes…leaving lots of space for being creative. So cute even as they are, but for me it's an empty palette waiting to be colored!
Here is Janice's original card which brought on the challenge. I love what she came up with and it filled me with inspiration and fun ideas. How clever to add a spider to the nose and fun little mesh stockings. I really loved the fact she stayed away from colors and only added a color pop of red!
You can find the info for Janice's card HERE
Barb, being the queen of Creative Color placement added her special touch and stayed a little more true to the "face painting idea Janice had with the spider webs. I love how she added blue eyes that stand out. I also thought that adding a shadow of the dress in the X-ray was clever! Once again…never disappoints!
Info on Barbara's card
HERE
.
As an added Bonus Barb challenges you to turn this little cute into whatever you want by adding a little Creative Color Placement. This digital is on sale for a limited time HERE. Go grab Kacee from the Little Miss Muffet store and I challenge you to get creative. You can show off what you created on the LMM blog HERE
Copics:
T1 2 3 4 5 6 7 8 9 100
(I think and mostly because some of them were getting dry and sticky…time to refill)
R24 R29
Multiliner .005 and .3
Can't wait to see what you create with a Polka Dot Pal…make sure you show me or tag me on Facebook!!!