I am in the middle of moving into an RV full time and incorporating a studio that can travel. As I was sorting what is staying and what is going to be given away to friends (due to weight and space in an RV), creativity got the better of me and I stopped organizing for enough time to create something super fun. Using the Tonic Studios die "Happy Penguin" I grabbed the 8″x8″ Christmas Wishes paper pack that I had been holding on to for some special cards.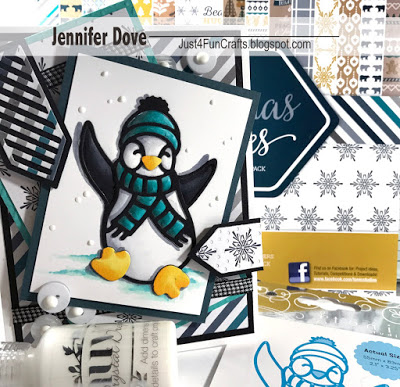 Did you know Tonic has paper packs? They come in 8″x8″ and have 3 single sided sheets of each pattern. I was pleasantly surprised they even had 6 sheets of sentiment toppers in the one I have. I love that they are single sided too…that way I don't waste a cool pattern on the back.
I started out with cutting the die on black cardstock. The Happy Penguin die gives a beautiful thin lined image that is nice on its, own but I can never stop with simple…I have to load it up.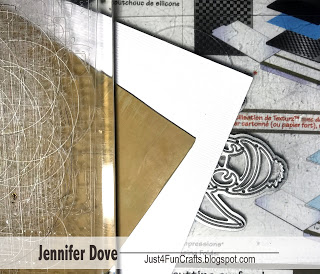 Next I ran the die through my die cut machine and embossed the image on white cardstock with a rubber spacer so I could see the impression of the die but it wouldn't cut through the paper (I got lazy and didn't test my pressure or mist the paper with water first so it wouldn't crack, but I was going to color it anyways so I didn't redo it, pretty much got lazy).
Once both pieces were done I colored in the spaces that would show through the die cut lines and then glued down the black cut out piece directly over the uncolored portion. I also created a second lined piece using white so I could color and cut out the beak and the feet.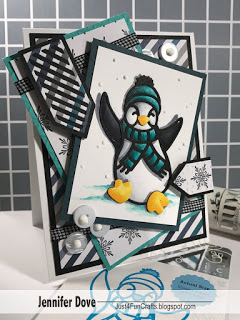 I then assembled the card…I added Nuvo Crystal Drops White for the snow around the main image. I also added buttons with nice fat Nuvo drops on them. Have you tried this and had the Nuvo drops sink into the button holes creating uneven drops? A simple fix is to add a mini Glue Dot to the top o the button and then add the Nuvo on top of the Glue Dot, that way its can't sink into the holes. You are welcome!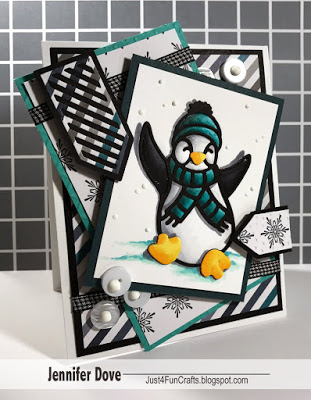 Make sure when you are coloring it up you do some fun cast shadows on the outside of the image to make it look dimensional. It's the wow factor!
All I can say is this was super fun and easy to create! Now back to organizing my RV studio so I can play more later.