I mean for reals…this is a must have! I love my Copic Sketchbooks. Why? What makes them awesome you ask? Let me tell you what I love them!

They come in different sizes, the small one is perfect for the art on-the-go and the larger ones are great for nice sized, framable artwork. The paper is smooth and the perfect thickness to hold layers of ink (although I still put a scrap paper between sheets for possible bleed-through). The paper is a nice weight to go through a printer if desired.
Have you worked on paper that is not a tight, compressed weave? When you ink it, the ink will travel in the weave of the paper fibers leaving a not-so-crisp impression…this is not the case with the Sketchbooks. The ink stays where you place it. For inking and coloring with markers you want that compressed paper. For watercolor and other mediums you want the softer papers that allow the medium to travel.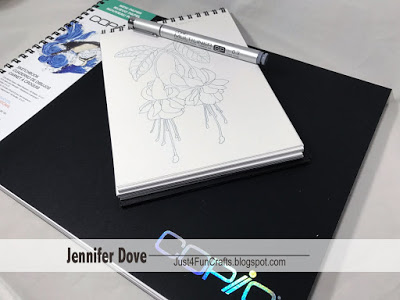 I thought I would do some playing around for a project I was working on. I drew this Fuchsia cluster using my pencil and then once satisfied I inked it with the Cool Gray Multiliner. Normally I would just color it in the Sketchbook, but I needed to preserve the original image for future use, so I scanned and printed it and then colored the printed version up. Now I have the original safely in the Sketchbook for future use.
A lot of research was done to find the highest-quality Japanese illustration paper. It has 50 sheets in each size Sketchbook. It comes with a very nice thick cover so you can use it as backing to draw on and also protect your projects. This uncoated paper is 70# with a very smooth surface. Because if its slight warm tone it allows for very bright and vivid coloring
You can find the Sketchbook in a plethora of sizes at Imagination International Inc., or ask for it at your local art store.
What will you create using this yummy paper? Come back and see what I did with my drawing.