With the heat in Phoenix (yes, I am complaining) I would love for a little shade and an outdoor cup to sit in…make that a big cup. Speaking of cups this one was fun to color and add a little dimension too. Just by simple placing the colors down with highlight an shadows in each area gives the flat object a more round appearance. Give it a try! Pick up the stamp from Stampendous called
Whisper Bath
and color her up!
Copics:
C1 C3 C5
100
R81 R85
E50 E51
YG03 YG17 YG67
B000 B01 B02
E42 E44
….this image reminds me of home. So I couldn't finish this post without sharing some of my family. My mom and dad live in Northern California. They have build a wonderful oasis amongst the redwood trees of which they call home. After building the house they built a deck that is built around the trees and an outdoor bathhouse right by moms art studios. Dad always has a project going which is one of the reasons he remains so spry. So here are a few peeks into a place I love.
Cousins in the mini pool…tub (love you CUZ)
A walk amongst the giants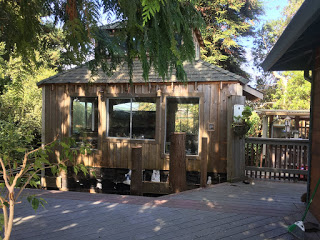 Studios behind bath house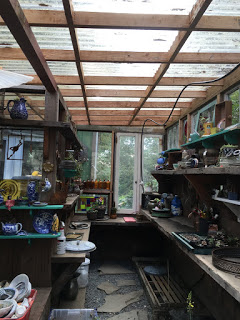 The green house
One of Dads many gifts is to see beauty in junk and make it into something. Creating a calming peaceful surrounding that you never want to leave. My dad is a dreamer that can turn a dream into reality. Of course he isn't alone in this artistic expression…my mom takes it all to a totally new level. They make an amazing team now for a total of 47 years! Much admiration!