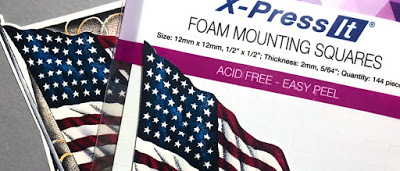 Did you know that the Imagination International Inc. X-Press It line has a range of different products to include not just the
Copic X-Press It Blending Card
, my favorite
Transfer paper
,
Mask It,
but also adhesives as well? There are both
tapes
and glues. I already loved the easy-to-use
double sided tape
so when they came out with the Foam Squares I was super excited because I knew it would be fantastic. It comes in the perfect package to take along on all my events. So easy to use…just peel and stick.
Here I created a card for tomorrows DoveArt Studios release. I stamped the image and colored it up twice. Then I cut out the flag on one of the images. I wanted dimension on only parts of the image. On the left side of the image I just glued the piece straight down…but the right side needed to be raised so I used the X-Press It Foam Mounting Squares.
Here it is assembled. So simple to do but adds such fun dimension. These pre-cut, high-tack Foam Mounting Squares come in two sizes,
1/4″
or
1/2″
, with easy to remove backing.
Stop by tomorrow to see the card completed. You are going to love this release!! Plus there are chances to win a new release stamp from CCDesigns too!