Ever have a idea but you are too tired to get out of bed? Well that always happens to me…this idea I actually remembered by morning.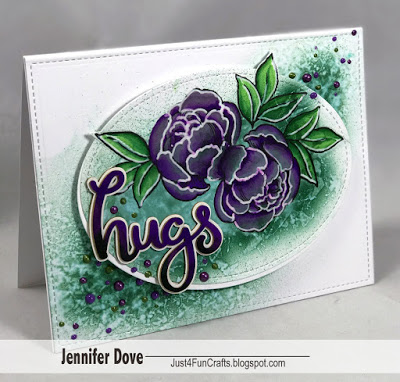 This idea was a new way to texture card stock. Normally when I am texturing something I use a terry cloth or burlap or other textured textile. These items soak up the alcohol. My idea was using something that wouldn't soak it up, wax paper. I did try seran wrap but didn't like the results as much (will have to experiment more). Anyways, I airbrushed onto blending cardstock and then spritzed the crumpled wax paper and held it for a second onto the airbrushed background leaving some fun results. I really liked it. Once I had that "oh, it's cool" moment, the paper just sat on my desk staring at me.
I have had this stamp set from Stampendous sitting on my desk because I am working on a project for the Advanced Copic Retreat I am directing and teaching at in April in Phoenix. It is called Bouquet For You. It has so many different fun parts to it and can be used in so many ways. I decided to use one of the flowers from the set to create a simple card.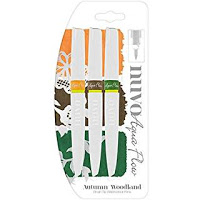 This was the perfect opportunity to play around with my new Nuvo Aqua Flow Brushes. I stamped the image in Versa Fine directly on top of my background and then used the Aqua Brushes to color it in. I am not "fluid" with water coloring, but it was super fun to do. The colors are so vivid but can be watered down if desired. I decided to not water them down but rather color directly with the Aqua brushes. I used the two purples and the two greens for this card. They come in sets of 3 and there are 4 sets plus an empty water brush set. I then colored the wonderful chipboard layered word from Make It Crafty using the Aqua Flow brush in both the purple and the green. It dried really quick so was able to glue it together and add it to the card. Once the image was dry I added white gel pen to the highlighted areas of the image. One would usually stop there but NO not me…I had to add my favorite embellishment, Nuvo Crystal drops. I used Bottle Green, Crushed Grape, and Violet Galaxy. The first two are mat and the galaxy has a shimmer. YUM!
All this because I had to experiment! Here are the links to some of these fun products. Now go do something that is not quite inside the box! You just never know what the outcome might be until you try!