Did you know Imagination International has workbooks? These wonderfully printed, full color books come in a range of topics from Intro to Coloring with Copics, Cats & Dogs, Coloring Flowers, and Faces & Hair. If you are just starting out on your own this is a great place to start. If you are a teacher and want to use them as a curriculum this is the perfect tool. Everyone can have their own workbook to follow along while you give instruction. All the books have step by step directions as well as images to scan, print and color.
I thought I would get a little fancy with the
book
and merged a bunch of the Siamese kitties together and place them onto a paw-print background. I wanted to focus on playing with cast shadows on the background to make the kitties pop-up off the card. Another super fun card to create. If you think this book is too easy, then take things further and add additional elements. There is always reason for practice and expanding your capabilities. Challenge yourself to go beyond the step by step.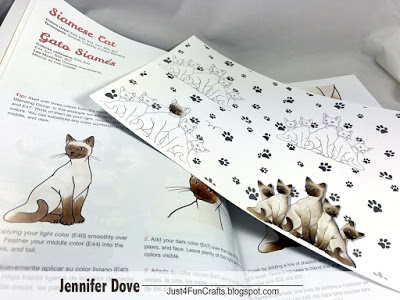 Here is my finished card. I think my kitties turned out dimensional, like they are popping off the page don't you think. As my 2 year old would say, "I Likey".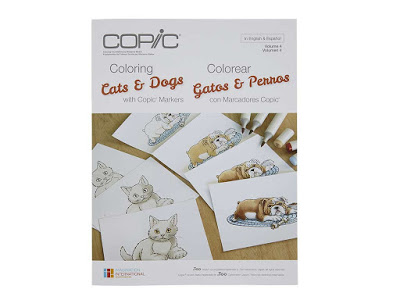 You can find this book
HERE
Copics:
E40 E42 E43 E44 E47 E49
BV20 BV23
B12 B16