If you struggle with coloring faces and hair you might want to get some great insight from "Coloring Faces & Hair with Copic Markers" by Marianne Walker. It really gives you some great fundamentals, PLUS images to scan and color. This book gives very clear instructions, giving you a step by step in the coloring process.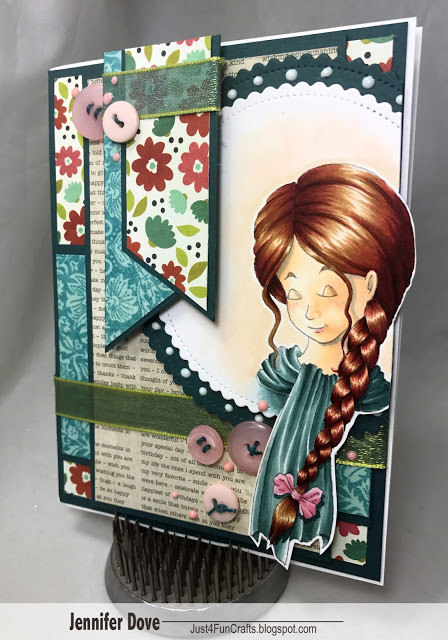 Here is something I colored from the book.
The author wrote it so it starts simple and then progresses to more complex like the braids I did above. In this over 50 page book, it also has a coloring chart for skin, hair and eyes so you can document your favorite blends.
For those of you wanting to get more practice in, or just getting started this is the book for you.
The Copic colors I used are:
Skin – E50 E51 E21 E93
Hair – E35 E08 R89 E79
Clothes – BG70 BG72 BG75 BG78
R81 R83 R85
BV20 shadows
Other Products used in this card
White and Bubblegum Nuvo drops
CCDesigns dies