Yes, another must have! Copic just released the new color in the Multiliner family. Welcome Lavender!! I find that I don't have enough purple in my life. I rarely use that color for cards and so this was even more challenging for me to step outside my normal color palette.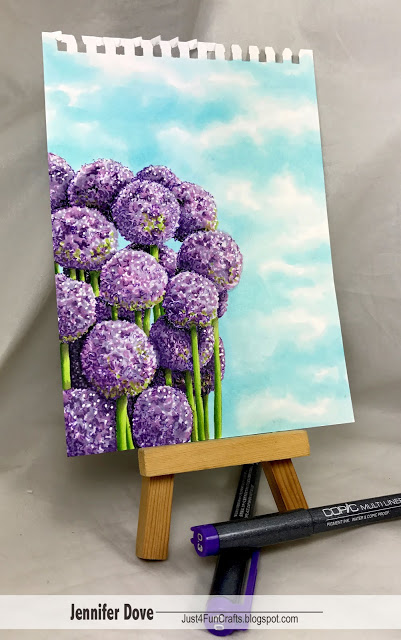 Using a reference photo from the web I drew this simple outline of the onion flower. How can you go wrong with big fluffy balls of flowers. One day I will find a field of these and take photos. I must put this on my bucket list (yes, it is the simple things in life that make me smile)
Once I had my rough sketch I grabbed my delicious new .3 and .5
lavender multiliner
and outlined them all to create the base of the piece of artwork. I mainly put lines around the darkest areas as a reference. Next I used BV000 as the base layer of the flowers.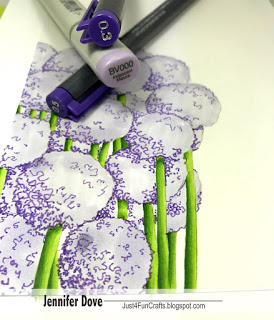 The next step was to create depth. Using the YG03, 17 and 67 I colored in the stems (I started with the green because I love them so much). Adding the layers of the purples was very therapeutic. I wanted to make sure the lightest colors were prominent so i left a lot of the BV000 showing through as I scribbled in V17, 15, 12 and BV11. I added BV29 in the farthest shadowed areas and used the BV11 as the cast shadows. POOF you now have pom pom flowers! The multiliner texture still showed through the blending of the other colors used. The lavender multiliner color tone is similar to V17 if you need a reference color.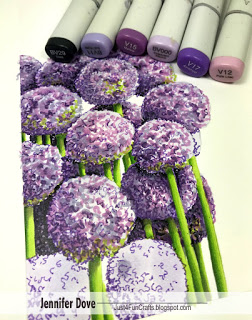 I added B00 B000 B0000 for the background to complete this piece. I was going to make it into a card but for now I will keep it as a little art piece. I can almost smell the fragrance of the onion.
The multiliners are now available to purchase and can be found
HERE
. They come in 4 sizes: .03 .05 .3 and .5. You also have the option to buy the set of 4 in a pack and it can be found
HERE
For those purple lovers this is definitely something you must have in your art tools. Even if all you do is doodle and take notes. Super fun and YUM!
-Jenn Dove