You know the moment when you have something all planned and it goes wrong in an instant? Yes, I had that moment. I bet you can't tell by the outcome of this card, right?
I was working on this card and was just finishing off the coloring stages when my little one grabbed my chipboard frame. Before I could utter the word "!NO!" it was torn in two pieces. Looking down at that cute face with those little round curious eyes looking up at me. She was so pleased that she had just made two pieces from one object? How could I be mad? To her it was cool! Ok, time to think quick, no time to come up with another idea. AHA!! I bet my medium tip
X-press It Glue pen
would work perfect…so I tried it and it DID! It produced just the right amount of glue without "gooshing" out and making a mess. When all glued back together I just quickly colored over it with a blue marker to bring the colors all together.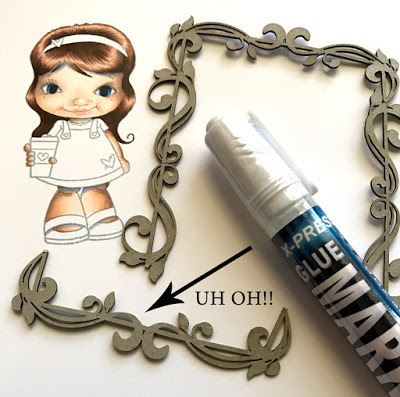 Project rescued!
I will make sure I have one on hand for all emergencies! It comes in 2 different nib styles (medium and wide). To use all you need to do is push the tip and the glue will start to flow. When you need more in the nib just squeeze while pushing the tip down and it will fill the tip up again. This is great for so many projects! I also glued the coffee cut embellishment together using this glue. It worked perfect because it allows a little movement once the pieces were placed together giving me time to position just right. I love the end result….life is all back to normal and so is my frame!
Acid-free / Xylene-free
Non-toxic
Clear drying
Dual application
Permanent / temporary
4mm Medium Tip or 8mm Wide tip
Other Items used: