Stampendous has gotten together with Clearsnap this week for some fun. This was a little outside my comfort zone (yes, i actually have one). I decided to play with the Colorbox Paintbox pigment and a water brush to create this snowy fun image by Stampendous. I finally got into the groove and had a hard time stopping.
I first stamped with Colorbox Archival "Seattle Sky" gray dye ink pad. Then I took my water brush and robbed it on the Paintbox ink pad and "watercolored in the image. As you know if you are used to coloring with copics it isn't going to be as vivid, but I like the soft look. After I finished coloring it in I got ready to get messy.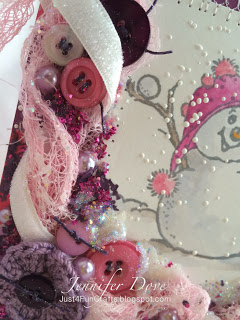 This is about the only snow we see in Phoenix Arizona…LOL. Not too pleased. Good thing it didn't happen in my lap and I was able to put it back in my jar. I don't know what I would do if I didn't have my Chunky White! Stampendous Image "cling Snowball Fight" can be found HERE
Join us on the hop and see all the lovely creations. If you comment along the way i am sure goodies are possibly in your future. Have fun!!
We'd like to apologize for any confusion in today's Blog Hop! Here's a correct list of Bloggers hopping if you want to just keep this window/tab open and hop in another tab it might be easiest. Thanks for your patience, as always you have until Sunday night to complete your hopping/commenting before we will choose our three winners on Monday.

Thanks again for hopping along with us! Do be sure to share our posts on your Facebook, Twitter, Pinterest, and wherever else you share!