If you saw the previous post using May Arts ribbon and my Steampunk cake (
VIEW POST HERE
), you will recognize some of the same ribbons were used to make this card. Waste not, want not, right?!
You can take the instructions from the Floral Pom Pom HERE and substitute the 20″ of ribbon for that leftover 6″ of ribbon laying around, and make these flowers shown on the card. Don't you just love variation? I chose this image from Stampendous called
W099 Birthday fairy
and colored her using my Copic markers and airbrushed the background. I covered the little fairies hat and shirt with ribbon and turned one of my flowers into a tutu. I airbrushed the remaining ribbons on the card to make it a little older looking. I love this old fashion fairy, a little rustic a little steampunk and whimsical. You choose.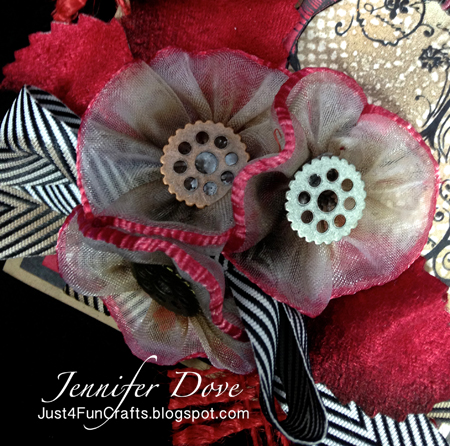 May Arts Ribbon