Thank you for all the delicious comments on my blog pertaining to the Copic Coloring Guide Level 4: Fine Details. I got my hands on a copy at a local scrap book store and I have to say that you won't be sorry! This is the best one yet! Be sure and get your copy soon!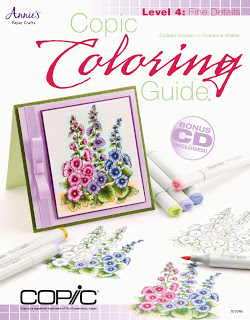 I picked a winner by Random.org….and I know you just can not wait to see if it is you….if your name is TN Granny (from blstamper@blogspot.com) then you have picked up your very own autographed copy of the book from Colleen, Marianne and myself. Be sure and email me with your mailing address. My email is on the right of my blog.
If you want to learn more about this technique and so many more be sure and check out my Copic Boot Camp retreat in November, located in Phoenix Arizona. Information HERE.