I am a huge rooster fan…or rather a fan of roosters so I went hunting on pinterest for roosters. I saw this painting and loved the colors so thought that this would be my inspiration for week 3 of DreamWeavers Pinterest inspiration challenge on their blog HERE.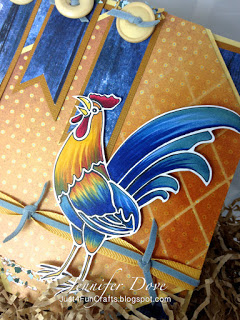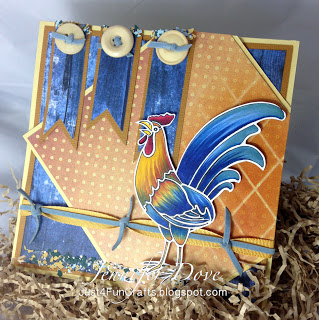 I used the Rooster stencil LG732 to create an outline of the image. I used a Copic Multiliner pen as I knew I wanted to color it with my Copics. I colored it in just like I would have a stamped image using Copic markers YR23, YR24,YR27,R46, R59, BG75, B34, B37, B39, and Y19. I used Diamond Grid LJ882 to airbrush "chicken wire" on the background paper. I cut out my rooster and layered it on the card. Notice how I used the MayArts ribbon to look like barb wire…clever huh? I love the versatility of the stencils. Paste, airbrushing, "jentangling"…endless possibilities!!
You have to check out the other lovelies too!