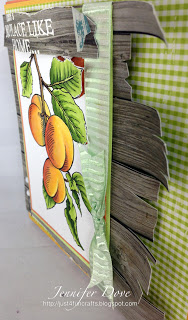 I couldnt decide if I wanted to do plums or peaches or apricots so I did a apricot, but my BFF Rhea made plums of which I think are so amazing. Be sure and check her plums out
HERE
.
I do love how they turned out as they feel very summery.
Card Directions
top layer – Color apricots (plums, peaches) using favorite medium. Cut image down to 3 x 4 1/2. layer onto 3 1/8 x 4 5/8 peach card stock and then onto 3 1/4 x 4 3/4 mint card stock. Pop up onto pattern paper (wood looking). Place two brads through pattern paper on bottom left side as shown in picture. Wrap right edge of image with ribbon as shown and tie a bow.
Bottom Layer – Cut our a plaid pattern paper 5 1/2 x 5 1/2 and layer onto 5 3/4 x 5 3/4 orange card stock and then onto 5 7/8 x 5 7/8 peach card stock. Place down onto a kraft paper 6 x 6 card base (tent fold).
Assembly – Place wood paper layers onto card base layers using pop up foam tap for dimension.
Sentiment – Emboss using white embossing powder onto a strip of wood pattern paper and place over all layers as shown in picture.