Nothin like a view from the sky using the NEW image by Stampendous!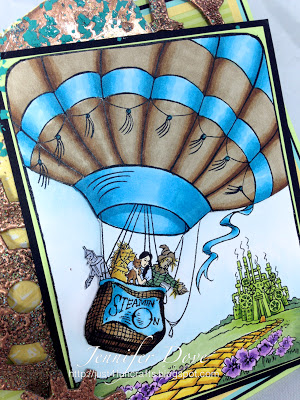 Copics Used – BG02 05 07 E31 35 57 59 43 44 51 G43 46 YG25 67 C3 Y15 26 YR27 V12 17
Color the image using your favorite coloring medium. Layer onto a green mat then onto a black mat to form image layers. Cut a 5 1/2″ x 4″ yellow piece of card stock. Using a Versamark stamp pad ink one of the corners and put Aged Teal embossing enamel on it (FREG036). Heat embossing enamel. Using liquid adhesive add Teal Color Fragments ( FRC18) over top of teal enamel. Cut out some chipboard gears and ink up using the Versamark pad. Add Aged Teal enamel and heat. Cut Card base 6 x 12 and score at 6″ to for a 6×6 card base. Layer 5 1/4 x 5 1/4″ pattern paper onto a 5 1/2″ x 5 1/2″ yellow mat then onto a 5 5/8″ x 5 5/8″ blue mat. Place onto a 5 7/8″ x 5 7/8″ black mat. Place all layers onto your card base. Using foam tape add the heat embossed yellow card stock and then the image mats. Place gears in between.