I Hoped We Are Entertaining You!!
You should have arrived from my lovely, wild and crazy friend
Aeryn
Can you say party until your hair turns pink? This image screamed "PINK", and so I just did it! This is one of the new releases from Make It Crafty.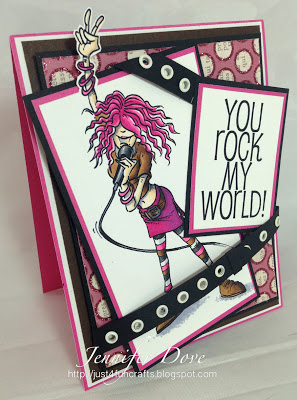 I grabbed colors I hadn't ever really used and got to it! Have you noticed that when you apply some of the pinks they appear fluorescent? I wanted to turn and run. But if you give it a moment it actually calms down and becomes a rich pink. For this image I use RV04 and RV09.
You can find this image in the store along with a handful of other rockers. Hop to the other blogs and check them out. Don't forget to give those pinks a try while your at it!
You can head over to Make It Crafty store to pick up your rubber or digi sets of fun entertainers and elements.
You can't have a GRAND SHOW without a DOORPRIZE!
If you have made it this far you are half way through the hop…way to go!! Guess what…I even have another special card to show you so I will see you back in a few…Leave me a comment and then hop over to the
Special Guest Kay
and see the lovely stuff she has created!
One person will win the full collection of digi stamps
and another will win the full collection of rubber stamps!
If you are lost or just starting from my blog head over to our special
Zoe
and start from the beginning.
I HOPE YOU ARE ENJOYING THE SHOW!!