…and so am I. Here is a couple of cutsie kiddos playin with some hay…called Hay Ride Kiddos. if you love to paper piece or color this image is a perfect large size. it is so fun and easy to work with. I colored it up with my Copics…lots of them and used one of my favorite "saved for a special occasion" button along with this lovely may Arts Ribbon.
Stampendous chose thursday's winner from my blog!
Barbara
Barbara said… I absolutely love this. the snowbird is so cute and the beautiful coloring , the use of the fragments and the lace add to the charm of this little gem of a card!
Winners – be sure to email us at submissions@stampendous.com to send your address where we can mail your prize!
As you know you are on a fabulous hop so be sure and leave everyone some love for you chance to win goodies and get some inspiration from some of the amazing talented teams.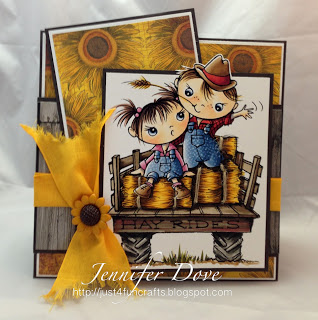 Lot's more awesome May Arts/Stampendous inspiration can be found on these blogs! And goodies to be had too…all you have to do is comment about our beautiful stuff!